Concertzender Now
The Concertzender's musical week activity programme. With CD of the Week, the concert diary, interviews with guests and focus on upcoming exhibitions.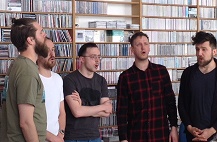 With the CD of the week.
Host today: Evert Jan Nagtegaal
NB Order and playlist are conditional.
1. Interview
With the Olga Vocal Ensemble.
The Olga Vocal Ensemble is a fresh, new Dutch ensemble with international roots. Olga was founded at the Conservatory in Utrecht in 2012.
Bjarni Guðmundsson – first tenor,
Jonathan Ploeg – second tenor,
Gulian van Nierop – baritone,
Pétur Oddbergur Heimisson – first bass,
Philip Barkhudarov – bass.
Olga's repertory covers at least five centuries of musical bliss, from Renaissance to barbershop.
more info and voordekunst.nl
2. CD of the week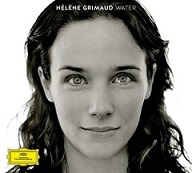 Water – Hélène Grimaud, piano.
Nitin Sawhnwy, keyboard, guitar & programming
Music: Fauré, Ravel and Takemitsu, Berio.
[DGG 4793426]
3. Concert diary Early Music
Sunday 1 May, beginning at 11.00.
Concertgebouw Amsterdam.
Tallis Scholars led by Peter Philips.
Allegri and Pärt.
more info
[Music: Gregorio Allegri, Miserere.
Performers: The Tallis Scholars.]
4. Classical Music
a. Thursday 28 April, beginning at 20:15.
Plantagekerk in Zwolle.
Orkest van het Oosten led by Jan Willem de Vriend.
Beethoven and Brahms.
more info
[Music: Johannes Brahms
Symphony No. 2 in D Major, Op. 73: III. Allegretto grazioso (Quasi Andantino) – Presto ma non assai. Performers: New York Philharmonic led by Zubin Mehta.]
5. Interview
Tineke Steenbrink tells about the project 15 inventions, a project by the Dutch Bach Society. The project aims to visually register all the works by Bach. The reason for this project is the 100th anniversary of the Dutch Bach Society.
6. Classical Music
b. Thursday 28 April, beginning at 20:15.
Muziekgebouw aan 't IJ.
Collegium Vocale Gent led by James Wood
and saxophone quartet BL!NDMAN.
more info
[Music: Leoš Janáček, Halfar the Schoolmaster, JW IV/33.
Performers: Reinbert de Leeuw, Collegium Vocale Gent.
Janáček, Říkadla.
Johan Sebastian Bach, Christ, Der Du Bist Der Helle Tag BWV 766.
Performers: Bl!ndman Saxophone Quartet]
7. The Museums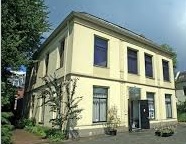 Museum De Casteelse Poort, Wageningen.
Drawings and objects by Hent van den Berg.
From Saturday 16 April to 10 July.
more info


'Ibis' by Hent van den Berg.
[Music: Manuel de Falla, Canción del amor dolido from El amor Brujo. Performers: Esperanza Fernández, vocals. Orquesta Joven de Andalucía led by Juan Udaeta.]
8. ..hoor es…
Column by Robbert Jan de Neeve.
[Music: H.J. Messink, Wilhelmus van Nassaue. Performers: Tamara Rumiantsev, Jeroen van Veen.]

9. Contemporary Music
Friday 29 April, beginning at 20.15.
Muziekgebouw aan 't IJ.
Private View, a short opera based on the work by Alfred Hitchcock.
This opera got the Rolf Lieberman Opera Award in 2014 and played already in Rotterdam last year.
more info
[Music: Annelies Van Parys, Poème.
Performers: VocaalLAB.]
10. World Music
Saturday 30 April, beginning at 20.30.
RASA Utrecht.
Roberto Rodriguez with Cuarteto Masada.
Music from Aguares, The Book Of Angels Volume 23.
more info
[Music: Nelchael.
Performers: Roberto Rodriguez.]
11. Jazz
Wednesday 4 May, beginning at 20.3o.
Bimhuis, Amsterdam.
Kenny Werner Trio. Combination of own compositions with gems from the swing and bop.
more info
[Music: The little Blue Man. Performers: Kenny Werner Trio.]
12. Concertzender live
Wijnand Groot made a recording for the Concertzender on 19 September 1989. Some parts from the Suite from "King Arthur" with the Bach soloists from Amsterdam led by Thomas Hengelbrock.
Producer: