Concertzender Live
Ballaké Sissoko and Vincent Ségal in the Pilgrim Father's Church, Rotterdam
Tonight in Concertzender Live a concert of Ballaké Sissoko and Vincent Ségal, which took place in the picturesque Pilgrim Father's Church in Rotterdam on 12 November 2016.
Kora player Ballaké Sissoko and cellist Vincent Ségal have a close friendship, which already dates back a number of years and was recorded for the first time in 2009. Since then, the duo travels all over the world and recently they were in Recife, Brazil.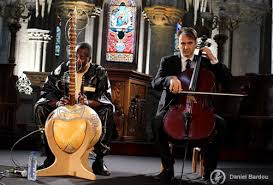 Despite their different backgrounds – from West African traditional music to Baroque – their sounds fuse together effortless.
1. Chamber Music, Ballaké Sissoko and Vincent Ségal (05,54)
2. Niando, Ballaké Sissoko and Vincent Ségal (07:05)
3. N'Kapalema, Ballaké Sissoko and Vincent Ségal (08:20)
4. Passa Quatro, Ballaké Sissoko and Vincent Ségal (04:52)
5. Asa Branca, Ballaké Sissoko and Vincent Ségal (07:04)
6. Halinka DjoubC, Ballaké Sissoko and Vincent Ségal (07:38)
7. Oscarine, Ballaké Sissoko and Vincent Ségal (10:10)
8. Histoire de Molly, Ballaké Sissoko and Vincent Ségal (05:37)
Technician: Cees Sterrenberg, producer: Wijnand de Groot
Produced by: