Concertzender Live
The Greek rebetika band Kompanía live in concert in Rasa, Utrecht on 20 March 2014.
Kompanía consists of five musicians from Athens and is led by singer Katerina Tsiridou. The band plays rebetika songs from the golden era of the genre. With instruments like the bouzouki, baglama, oud and accordion Kompanía creates a pure Greek atmosphere of olden days. From the twenties until the fifties this grievously sung town music was loved as well as infamous among the Greek. Add the candid lyrics about drugs, crime, nostalgia, poverty and sex and you will understand why rebetika is also called 'the Greek blues'. Since 2010 rebetika has been on the up and up.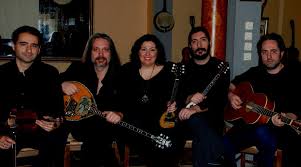 The band consists of:
Katerína Tsirídou, voc./baglama/zills/percussion;
Dimítris Kranídas, voc./bouzouki/oud;
Sotíris Papatragiánnis, voc./baglamas/percussion;
Nikos Protópapas, guitar/vocals;
Tzimis Gkinis, accordion.  
Introduction rebetika music, Kompanía (0:37)
Mes ston onda, Kompanía (03:36 – 03:28)
Teketzis, Kompanía (02:57 – 02:44)
Pame sta bouzoukia, Kompanía (04:24 – 04:14)
O Pinoklis,  Kompanía (03:27 – 03:18)
Ta ziliarika sou matia, Kompanía (03:16 – 03:06).
Matia Mou, Kompanía (06:01 – 05:44)
Kanis the vrethike yiatros, Kompanía (03:38 – 03:28)
Doctor, Kompanía (04:11 – 04:11)
Arapina mou skertoza,  Kompanía (04:00 – 03:50)
Erinaki, Kompanía (05:40 – 05:31)
Koudoula vlacha, Kompanía (02:38 – 02:30)
Explanation baglama (0:46)
Ach, vre thalassa kakourga, Kompanía (05:48 – 05:37)
Romandza, Kompanía (06:27 – 06:25)
Live recording Rasa, Utrecht, 20 March 2014.
Recording and production: Wijnand de Groot
Producer: