Concertzender Live
Concerts from around the country, recorded by Concertzender (World Music).
Live-recordings of world music
Episode:  ETRAN DE L'AÏR. hypnotising desert blues from Niger
For over 20 years, Etran de L'Aïr has been performing in the 'guitar city' Agadez at weddings, christening ceremonies and political events. It is the most famous and longest playing group, though at the same time it is less known than bands such as Mdou Moctar and Bombino.
On 14 November 2021 the band performed at the World music podium the X in Leiden (location Scheltema). Today, you will be listening to our personal recording of a large part of that thrilling concert.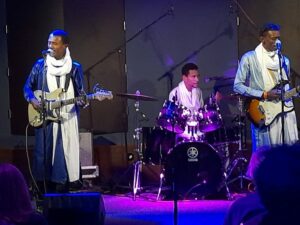 Playlist Etran de L'Aïr:
1 Amidinine  (Abdoulaye Ibrahim) 6'16
2 Toumastines (Abdoulaye Ibrahim) 6'06
3 Addounia  (Abdoulaye Ibrahim )6'01
4 Nakderamine  ( Abdoulaye Ibrahim )5'28
5  Wighreg michima – Tarha digh mane (Abundi Moussa Ibrah) 6'39
6  Imouyouzla (Abundi Moussa Ibrah) 5'34
7  Karade Marhane  (Abundi Moussa Ibrah) 6'13
8  Assouf (Abundi Moussa Ibrah) 5'22
9  Imdod Issay (Abundi Moussa Ibrah) 7'00
10 encore 1 (Abdoulaye Ibrahim) 5'06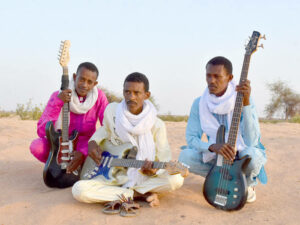 Produced by: