Concertzender Now
Concertzender Outlook on this week's musical headlines edited by Bart v.d. Horst. CD of the week, concert schedule and interviews with guests included. Listeners may comment to the broadcast at: actueel@concertzender.nl.
Host: Bart van der Horst
1.Intro
Music: Camille Saint-Saëns, Dance Macabre.
Performed by: Slovak Radio Symphony.
2. Interview with Luc van der Hut and David du Crocq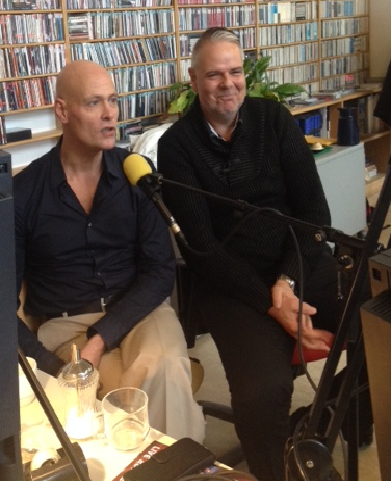 Lucas van der Hut and David du Croq are in the studio to talk about the opera 'Diaghilev', which is partly finished and of which we can listen to some fragments.
Music: Frederic Voorn, Proloog, De Russische ziel (The Russian soul), Part III from the String Quartet.
Performed by: David du Croq, vocals; Frederic Voorn, piano; Ad Libitum Quartet.
3. Early Music
Friday 11 November, 17.00 uur.
Utrecht, Catharina church.
A special St. Maarten celebration this year in Utrecht.
This year, the celebration will be accompanied by three choirs, who will sing music based on three manuscripts from a.o. Spain, Switzerland and Utrecht.
4.Interview Dianne Verdonk
Dianne Verdonk will be interviewed on her instruments and her music. Dianne is theinventor of the Bellyhorn and other instruments. She will perform live at the festival.
Le Guess Who! on 12 November with mini concerts.  It is possible for visitors to play the bellyhorn themselves. The concerts will take place at Kleis & Boon at 2 p.m., 2.30 p.m. and 3.30 p.m.
Music: Sound fragments of the bellyhorn and the pulseyarn.
Performed by: Dianne Verdonk
5. Hoor es..
Column by RobbertJan de Neeve.
Music: Hendrik Andriessen, Quattro Studi per Organo.
Performed by: Ton van Eck, organ.
6. CD of the week
Concertos & Cantata Ihr Völker hört
Composer: Telemann.
Musicians: Florilegium.
[EAN: 72338538616 2]
Music: Telemann, Concerto À 4, TWV 43/A3 – 1. Adagio, Concerto À 4, TWV 43/A3 – 2. Allegro, Concerto À 4, TWV 43/A3 – 3. Adagio, Concerto À 4, TWV 43/A3 – 4. Vivace.
Performed by:
7. The museums:
The Exhibition: Kijk! Glas.
Den Haag, Het Gemeentemuseum, until 12 March 2017.
Music: 2 Unlimited, No Limit.
Performed by: 2 Unlimited.
8. Ralph van Raat plays Loevendie
Thursday 10 November, 12.30 p.m.
Den Bosch, Toonzaal.
Music: Theo Loevendie – Strides.
Performed by: Rian de Waal, piano. (recording of the Concertzender)