Concertzender Now
Weekly actualities, with the CD of the week, the concert agenda and interviews with guests. Presentation Pauline Verburg.
Interview
---
Arnold Marinissen about the Jan Pustjens Focus Day where a work of him has its premiere.

---
Yasmin Hilberdink about the very first edition of the String Quartet Biënnale Amsterdam, on Saturday 27 January up to and including Saturday 3 February 2018.
---
The Museums
---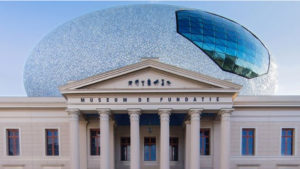 The Museums: De Fundatie, Zwolle.
Up to and including 3 June Neo Rauch Dromos Paintings 1993-2017
more info
---
Playlist
---
Christina Branco – Rosa
---
Title: Portrait of the Artist as a Starved Dog
Composer: De Rore
Artist: Graindelavoix conducted by Björn Schmelzer
[EAN8424562321144]
more info
---
Cipriano de Rore – Beato mi direi
Graindelavoix
---
Arnold Marinissen – Mestre Claudinei
Noe Rodrigo Gisbert
---
Arnold Marinissen – Totem I
Noe Rodrigo Gisbert
---
Oh lady be good
Ian Date and Tommy Emmanuel
---
Wagner – Tristan und Isolde, overture
The Berlin Philharmonic conducted by Herbert von Karajan
---
Sibelius – Symphony no. 2 in D major, Opus 43 part I allegretto
London Symphony Orchestra conducted by sir Colin Davis
---
Morton Feldman – Madame Press died last week at ninety
Orchestra of St. Luke's conducted by John Adams
---
Astor Piazzolla – The Four Seasons in Buenos Aires, Winter
Luna de Mol – violin, Nederlands Jeugd Strijkorkest conducted by Carel den Hertog
---
Rudolf Escher – Ciel, air et vents
The Netherlands Chamber Choir conducted by Ed Spanjaard
---
Paul van Kemenade – Stranger than paranoia
---
Janacek – String quartet no. 1, part 1
Jerusalem Quartet
---
Ravel – String quartet in F major, part 2 assez vif, tres rythme
Quator Ebene
---
Marin Marais – Suite in E minor VI Marche Persane dite La Savigny
Leif Henriksonen and Lars Erik Larsson
---
Produced by: