Concertzender Now
Weekly actualities, with the CD of the week, the concert agenda and interviews with guests. Presentation: Stef Lokin
Column
---
Aukelien Hoytema speaks about Debussy's Pelléas et Mélisande.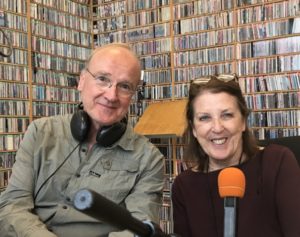 ---
Interviews
---
Coming Friday 14 June cellist Jobine Siekman (1995) plays the Concert for cello and winds by Jacques Ibert in the Small Hall of De Vereeniging, together with the Nijmeegs Blazersensemble conducted by Mark Snitselaar. Jobine Siekman is a promising talent, who won different prizes; for instance, the third prize in the National Cello Competition of the Cello Biennale Amsterdam and the Anna Shuttleworth prize for her interpretation of Bach. She studies now at The Royal College of Music in London with Melissa Phelps for her Masters of Performance.
---
Saturday 15 June the KIT Royal Tropical Institute in Amsterdam changes into the world of the Russian composer Tchaikovsky (1840-1893). Visitors go back in time and are able to listen to his music, and enjoy ballet, theatre, singing and dance. Visitors are asked to dress up in costumes of the 19th century. They will be transported to the main entrance of the KIT by horse-drawn carriage. After their reception, a programme lies in store for them that will take them to Russia of the time of Tchaikovsky.
---
CD of the week
---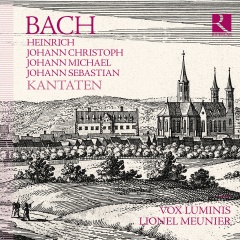 Composer: Bach, H. / Bach, J.C. / Bach, J.M. / Bach, J.S.
Title: Kantaten
Artist: Vox Luminis
Conductor: Lionel Meunier
EAN Code: 5400439004016
Label: RICERCAR
---
The Museums
---
In the Kröller-Müller Museum on De Hoge Veluwe National Park the following exhibition can be seen now: 'The beginning of a new world. The development of modern sculpture'. It shows the development of modern sculpture through the eyes of Bram Hammacher. Hammacher was director of the Kröller-Müller Museum in Otterlo from 1948 till 1963. Immediately when he took office, Hammacher chose for a new course: he got together a collection of sculptures that would be a worthy equivalent to the collection of paintings of Helene Kröller-Müller. Hammachers big dream was the realization of a sculpture garden. In 1961 it was opened. The concept, a labyrinth-like garden, in which nature and sculpture were equals, was at that time completely new and revolutionary. From that moment on, the Kröller-Müller was one of the most important international museums for modern sculpture.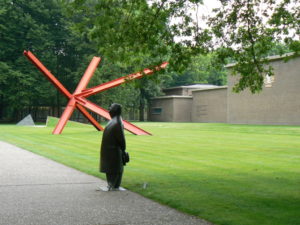 ---
Playlist
---
Rita Hovink – Love me or leave me
---
Johann Michael Bach – Ach bleib bei uns, Herr Jesu Christ; Herr, der König freuet sich,
by Vox Luminis
---
Pyotr Ilyich Tchaikovsky – For the Young Tchaikovsky
by Il Novecento conducted by Robert Grosloot
---
Petros Klampanis – Tough Decisions
More info
---
Jacques Ibert, Bacchanale Orchest de la suisse romande
conducted by Neemen Jarvi
---
Karol Szymanowski – Violin concert 1 Vivace Scherzando London Symphony Orchestra
conducted by Daniel Harding and Nicola Benedetti
---
Claude Debussy – Pelléas et Mélisande – Interlude from the 2nd acte Orchestre Symfonique de Montreal conducted by Charles Dutoix
---
Antonin Dvořák – the Adagio Allegro Motto, from the New World
by the Dallas Symphony Orchestra conducted by Jaap van Zweden
---
New Cool Collective with Benjamin Herman – Flootie
---
Johann Sebastian Bach – Hohe Messe Gloria in Excelsis Collegium Vocale
conducted by Philippe Herreweghe
---
Thijs Dercksen – Jumpy and Jumpy introduction
---
Arifa Secret – Poetry
More info
---
Olivier Messiaen – Oiseaux Exotiques
played by pianist Yvonne Loriod
---
George de la Hèle – Missa Praeter rerum seriem Kyrie
performed by Graindelavoix
---
Produced by: