Concertzender Now
Weekly current affairs, with the CD of the week, the concert agenda and interviews with guests. Presentation: Pauline Verburg
Interviews
---
Since May this year you are regularly hearing a column by Thijs Derksen in Concertzender Now. But who is Thijs Derksen? Later, after our conversation, you will know. Interview with Thijs Derksen, our musical columnist.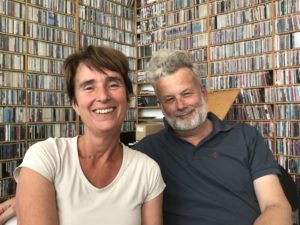 ---
We also have an interview with conductor Rolf Buijs about the first symphony of Mahler. It is executed more often, but by a youth orchestra with 130 enthusiastic musicians and then on the stage of the Muziekgebouw aan het IJ as well? That is far more exceptional. A conversation about this adventure with Rolf Buijs, conductor to the Amersfoort Youth  Orchestra.
---
Finally a conversation with conductor Tristan Knelange. On Sunday 7 July the Amsterdam underground choir Boeuf Majeur gives a concert in club Radion in Amsterdam. A concert where BOEUF MAJEUR enters into a symbiotic relation with EINDKRAK, the live act of electronic wizard and renaissance composer Boris Post".
---
CD of the week
---
Title: Cello Suites / Violin
Artist: Rachel Podger
Composer: Johann Sebastian Bach
EAN Code: 0723385411192
---
The Museums
---
I read about an exhibition with signs that say: 'please touch me'. Doesn't that sound extremely appealing? 'It's the first exposition in 25 years of the Groninger museum, that is understood better by children than adults', so says curator Mark Wilson about the exhibition Presence by Daan Roosegaarde. At the entrance there are some kind of polystyrene balls, which can be found throughout the museum. Every visitor, big or small, bathes through them, lies in them and plays with them as were it a dream about snow fun without the cold. The exhibition is about climate change, sustainability and our footprint and influence on our physical environment. Literally, because the visitor is scanned on surfaces and walls; without his presence, the exhibition cannot exist. A true experience of art in the Groninger museum.
---
Playlist
---
Francis Poulenc – 'Bonne journée' from the Song cycle 'Tel jour, telle nuit'
sang by tenor Ian Bostridge with Julius Drake behind the grand piano
---
Johann Sebastian Bach – Bach Menuet 1 & 2 and Gigue
played by Rachel Podger
---
John Zorn – The dead man part 1 up to and including 6
by the Molinari quartet
More info
---
Ruggiere Leoncavallo – intermezzo from the first act of I Pagliacci
performed by the Accademia Nazionale Di Santa Cecelia from Rome with conductor Lamberto Gardelli
---
Thijs Dercksen – To Bonn
---
Thijs Dercksen – Swift
---
Thijs Dercksen – Stay near
---
Nicolaus Bruhn – Praeludium no. 3 in E minor
by Gillian Weitr
---
Nicolaus Bruhns – Erstanden ist der Heilige Christ
by the Ricerar Consort
---
Kamille Werger – Schneelicht bebend weiss
---
Dance suite in Dub step by composer and drummer Brendan Faegre and the Bow Hammer Connection
---
Gustav Mahler – part 2 of the first symphony
played by the London Symphony Orchestra conducted by Valery Gergiev
---
Ástor Piazzolla – Milonga del angel
played by Carel Kraaijenhof together with Juan Pablo Dual
---
Sol Okarina – Sangre nueva.
She can be seen on the festival Dias Latinos in Amersfoort more info
---
Claude Debussy – Trois Chansons de Charles d'Orléans
by the Monteverdi Choir conducted by John Elliott Gardiner
---
Johannes Tinctoris – Missa sine nomine a 4: sanctus by Le miroir de musique conducted by Baptiste Romain
---
Renske Vrolijk – Hai Koe
to be admired at Wonderfeel 19, 20 and 21 July 2019 More info
Final exam performance recorded in 1994 by de Concertzender by Wijnand de Groot
Produced by: