Damas del Tango
Part 4: Rosita Quiroga.
The series Damas del Tango pays attention to female singers in tango music. This episode is dedicated to Rosita Quiroga, who had a short but successful career as a tango singer, especially in the 20s. The next episode will be about a comparison between the styles of singing, lifes and careers of Azucena Maizani and Rosita Quiroga.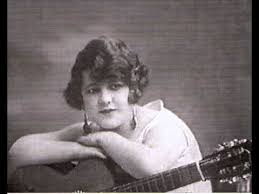 Rosita Quiroga
Playlist
Tune: Emancipación / Pugliese_From Argentina.
De Mi Barrio, Rosita Quiroga, Pato    
Sentencia, Rosita Quiroga, Pato
Ladrillo, Rosita Quiroga, 1929
Puente Alsina, Rosita Quiroga, Pato
La Musa Mistonga, Rosita Quiroga    (1925-1928), Vol. 2.
Muchacho, Rosita Quiroga, Pato
A Media Luz, Rosita Quiroga, Aquellos Tangos De…
Fumando Espero, Rosita Quiroga, Aquellos Tangos De…
Negro, Rosita Quiroga,  Pato Jazz
Oime Negro, Rosita Quiroga, (1925-1928), Vol. 2.    
Gorda, Rosita Quiroga, Pato    
Que familia! Rosita Quiroga, Pato
En La Via, Rosita Quiroga, 1929
Maula, Rosita Quiroga, Aquellos Tangos De…
Trago Amargo, Rosita Quiroga, Aquellos Tangos De…
Vete, Rosita Quiroga, Pato
La Cumparsita, Ciriaco Ortiz, Conversando con el Fueye
Producer: