Disc-Cover!
This month the treasure from the record collection is Argentinian guitarist Roberto Aussel with Atahualpa Yupanqui, La paloma enamorada.
In the series Disc-Cover we will play an unknown or unloved, long forgotten musical masterpiece. Treasures from the record collections from known and unknown music lovers, that are worth listening to (again)
In this eposide that is Atahualpa Yupanqui, La paloma enamorada. Argentinian guitarist Roberto Aussel selected 15 compositions by his great fellow-countryman Yupanqui and arranged them to instrumental works for guitar. A remarkable action, because Yupanqui is also praised for his poetic lyrics.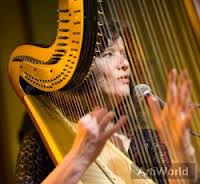 In 2008 Jopie Jonkers got the CD from her musical partner Koen de Cauter. Jonkers is THE authority of the South American harp in the low countries and she already has an impressive career behind her. 
Around thirty years ago she began as a singer in the folk group Deirdre, but for over two decades she is focused on South American music.
She released a couple of CDs and is regularly on tour with De Cauter and Juan Masondo among others. Furthermore Jonkers wrote two study and melody books for the South American harp in Dutch.
Jonkers, Masondo, de Cauter, Marcucci, Raaijmakers – Viejo Ciego (Piana, Castillo, Manzi)
Palomita viajera – THVK 2010-cd4
Roberto Aussel – El tulumbano (gato), for guitar
Roberto Aussel – Danza de la paloma enamorada (danza), for guitar
Roberto Aussel – El adiós (zamba), for guitar
Roberto Aussel – Canciones del abuelo No. 2 (estilo), for guitar4
Roberto Aussel – El bien perdido (chacerera), for guitar
Roberto Aussel – La Pobrecita, zamba
Roberto Aussel – Los ejes de mi carreta, milonga, for bandoneon
Roberto Aussel – El indio y la quena (melodia andina), for 2 guitars
Roberto Aussel – Oración a Pérez Cardoso (danza guarani), for guitar
Roberto Aussel – Melodía del adiós (canción), for guitar
Roberto Aussel – Danza rústica (danza), for guitar
Roberto Aussel – Vidala del Yanarca (vidala), for guitar
Roberto Aussel – La Cacharpaya (huayno), for 2 guitars
Roberto Aussel – Lloran las ramas del viento (vidala litúrgica), for guitar
Roberto Aussel – Cruz del sur (malambo), for guitar
nos. 3 – 16: Atuahualpa Yupanqui, La paloma enamorada – AEON AECD 0864
Jonkers, Masondo, de Cauter, Marcucci, Raaijmakers – Chacarera del Arpista (J.D. Masondo)
Palomita viajera – THVK 2010-cd4
Producer: