Disc-Cover!
Interesting records from folk and roots history.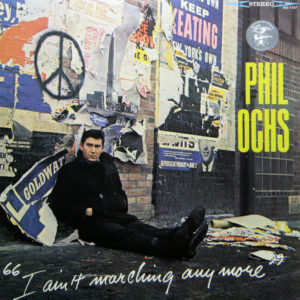 The sad story of a great-singer songwriter in this episode of Disc-Cover. Phil Ochs was contemporary and friend of Dylan, and is often compared to him. However, Ochs did not attain the commercial succes that Dylan did. The album 'I ain't marching anymore' from 1965 gave some hope of succes. The title song because the banner of anti-Vietnam war demostrations, and the album became a best seller, especially young progressive Americans.
Ochs wrote what he thought and felt, did not hold back, and pointed out the flaws in society in poetic songs. Ochs was journalistically inclined, and observed, demonstrated, and formulated the message of many unsatisfied young citizens. However, as Luther Zevenberg related in a beatiful article in New Folk Sounds, Ochs once said "there is nothing noble about what I'm, doing. I write to make money." Ochs adjusted his form and went electric, like his old friend Dylan.
It was a commercial failure. The first three records – among which the the previously mentioned I ain't marching anymore – were simple: man guitar and voice. In this episode, we will also play you the late version of the title song of that record. And also, a version by the British Richard Thrompson. Because regardless of the lack of commercial succes, Ochs is still very highly regarded amongst his fellow musicians.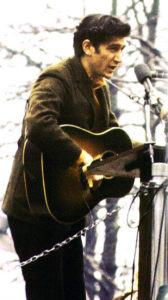 Phil Ochs
Phil Ochs – I ain't marching any more – Elektra EKS
1.     I Ain't Marching Anymore 2.32
2.     In the Heat of the Summer 3.03
3.     Draft Dodger Rag 2.08
4.     That's What I Want to Hear 3.06
5.     That Was the President 3.21
6.     Iron Lady 3.32
7.     The Highwayman 5.36
8.     Links on the Chain 4.17
9.     Hills of West Virginia 3.20
10.  The Men Behind the Guns 3.00
11.  Talking Birmingham Jam 3.10
12.  Ballad of the Carpenter 3.52
13.  Days of Decision 3.11
14.  Here's to the State of Mississippi 5.53
15.  I Ain't Marching Anymore (Electric) (bonus track) 2.48
Richard Thompson – Live recording Sendesaal Bremen, 25 februari 2003
16.  I Ain't Marching Anymore 3.25
Alle composities Phil Ochs.
Produced by: