Disc-Cover!
Interesting albums from the folk and roots music history, by Marius Roeting.
Around 1994: a drunken Irish woman falls over in her kitchen. After having been admitted to the hospital, the heavily pregnant woman loses her unborn child. At that time, she was a very familiar face to healthcare people. From the age of fifteen she had been drinking like a gas-guzzling old-time American car. After this horrible experience she decides she is too young to give up and goes into rehabilitation. The story is that since then she hasn't touched a drop of alcohol. The woman we're talking about is a professional singer who had had a couple of hits and some successful albums. She had been singing since the eighties, but her career really got going when she met Flairck member Erik Visser, a Dutch musician who took her under his wing. She had just divorced her husband in England and had returned to Ireland. Visser helped her record an album; Ancient Rain was Mary Coughlan's first success. It was followed by Tired and Emotional, a very successful debut album. Her career blossomed until that fatal event in 1994. She was back on the stage a year later.
She recorded a live album in Galway, the area where she was born. It is an emotional and passionate album. Despite, or maybe rather because of her alcohol abuse, her voice has become an instrument for expressing the pure emotion in the lyrics: rough, sometimes loud but ever so raw. Her voice cuts your soul like a knife when she sings her first hit. She plays off her audience and reacts spontaneously. She has definitely made a come-back with this highlight in her career and one of the best live albums ever. Not everything is perfect, but exactly for that reason…. Chansons, jazz, blue, country and folk, she reveals herself as a multi talent. But over and again, we hear this voice… Her masterpiece Mary Coughlan sings Billie Holiday was produced around the turn of the century.
The new blues, jazz and folk diva pours her heart and soul into the great and inspiring Holliday's songs. She records it at the age of 44, at the same age when her musical counterpart dies after a life of suffering, alcohol, drugs and misunderstanding. There are certainly parallels between their lives, but Coughlan survived in so many ways. She overcame her alcohol addiction, her turbulent life and her failing career. This is why we will present her come-back album as a masterpiece in the Disc-cover series.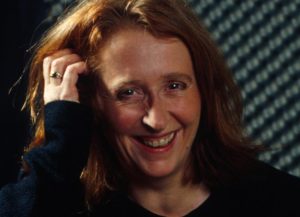 Mary Coughlan – Live in Galway – Big Cat ABB116CD
Laziest Girl (C. Porter) 3.10
The Beach (E. Visser, A. Hensey) 3.37
Hearts (J. Brel, trans Coughlan, Hensey, Mulhern, E. Visser) 3.13
Country fair dance (G. O'Beirne) 3.44
I want to be seduced (G. Tigerman) 2.56
Ancient Rain (J. McCarthy) 7.03
Sweet Victim (J. McCarthy) 4.38
Not up to schratch (B. de Groot, L. Nijgh) 4.29
Just a friend (Lambrecht, Schoufs, Schoovaerts) 3.29
Blue surrender (D. Long) 4.29
Magdalan Laundry (J Mulhern) 6.47
My land is too green (E. Visser, A. Hensey) 3.53
Delaney (J Mulhern) 4.17
Produced by: