Disc-Cover!
Interesting albums from the folk and roots music history by Marius Roeting.
From the Asterix and Obelix comics, we learned that the Celts were in Rome. But from a more reliable source, we know for sure that they had been living for some time in the north of Italy. Besides geological or other archeological finds, it may be possible to find something that shows their presence in that area in the past. But it is less probable that you will discover musical fragments of their presence in that area.
The music from, for example, Ireland, Scotland and Brittany that we call Celtic music nowadays has as much to do with the Celts as the Dutch popular singer André Hazes is connected to the Batavians. And yet the Turin band La Lionetta gave their debut album the title Danze e ballate dell'area celtica Italiana (dances and ballads from the Italian Celtic area). From a geographic point of view this is true, but the melodies and texts have little to do with the Celtic music as we know it. They have much more in common with the folk music of northern Italy and especially of that from the region Piemonte. In the previous century fieldworkers from this mountainous region recorded a wealth of folk songs and melodies. La Lionetta also drew from this rich song and music collections. In the spirit of the new folk revival that blew across almost entire western Europe in the early 70s of the previous century, this quintet also arranged ballads and songs of their own region, using traditional instruments like the guitar, violin, mandolin, dulcimer, flutes, bagpipes, hurdy-gurdy and accordion. The album Danze e ballate dell'area celtica Italiana was a great success and does have a touch of the real 'Celtica'. Curious? Then listen to this episode of Disc-Cover.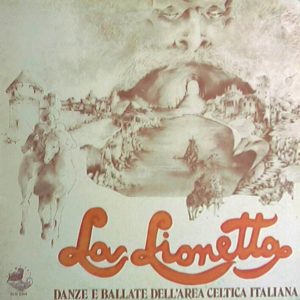 La Lionetta – Danze e ballate dell'area celtica Italiana – Shirak SLN 3304
1.      Papa Demi La Bela 2.26
2.      Suite Per Cornamusa 2.35
3.      Le Vioire (La Canzone Di Martin) 2.36
4.      La Bergera 3.28
5.      Curenta Occitana (Curenta – Balet) 2.58
6.      Un' Eroina 5.32
7.      Dona Bianca 3.37
8.      Giga Di Sampeyre (Introduzione – Giga – Balet) 3.57
9.      Prinsi Raimund 6.41
10.  Saltarello 2.00
11.  Danze Di Coumboscuro 3.03
La Lionetta –  Il gioco del diavolo – Shirak SLN 3307
12.  Moran dell'Inghilterra – Canzone della bella 3.04
La Lionetta – Ballate 1978-1996 – FolkClub EthnoSuoni ES 5336
13.  Amore Inevitabile 3.20
14.  L'Anello 2.56
La Lionetta – Ottoni & Settimini  – FolkClub EthnoSuoni ES 5306
15.  Dona Bianca 5.00
La Lionetta – Arzan – FolkClub EthnoSuoni ES 5331
16.  Potere Del Canto 4.38
All tracks are traditionally arranged by La Lionetta, with the exception of track 12: traditional arrangement by Aversa-Bertani / music: M. Aversa track 16: traditional music R Aversa, M. Salituro
Produced by: