Disc-Cover!
Interesting albums from folk and roots music history, compiled by Marius Roeting. 
The Concertzender is aised for its extensive, high-quality collection of live concerts. From the past and present, just listen to the Acoustic Roots broadcasts. Nevertheless, in this episode of Disc-Cover we will not be listening to a live recording, altough the group whose debute album we're presenting, does have a concert album. 
In the winter of 2006, a British trio released an album called Lightweights and gentlemen. Kris Dreyer from the Orkneys, son of former Wolfstone singer and guitarist Ivan Drever, violinist Aidan O'Rourke from Scotland and the somewhat unworldly accordion player Martin Green from England, make up the band Lau. Their surprising debut album is a mixture of mostly instrumental, energetic, dynamic reworkings of traditional songs and original songs. The trio did not end up being actual Lightweights, because in the following years they established themselves as an innovative, driven and illustrious trio. Experiments with electronics, a completely rebuilt or adapted keyboard with digital gadgets, loops, soundscapes and the like were linked to flashy tunes and worn ballads. And a boundless energy. Both musically and on stage, especially Green rages. 
The trio doesn't shy away from collaborations outside the usual frameworks: Kristine Polwart or Aoife O'Donovan are still close to home, but Fred Frith, Adem, Jack Bruce and Tinariwen are very different indeed. They have also composed a suite with a string ensemble in which folk, rock, classical and minimal come together. Lau is not very productive, partly as a result of the trio's 'side activities'. 
Martin Green's most recent creation is soundscape performance Aeons (with Becky Unthank and Adem Homes), a musical walk along the Thyne. Kris Drever runs a successful solo career and works with various musicians in project form. Aiden O'Rourke starts this year with a mighty project; The cycle 365. Where he composes and records a new tune every day, following the short stories of writer James Robertson.
And that one question: Why not a live (concert) recording of the trio? The simple reason is that a live experience of a Lau concert, despite technical achievements, cannot be recorded. Lau is a group that you have to hear, see, experience and feel. That leaves us with the debut album that started it all…
Playlist:
Lau – Lightweights and gentlemen – Reveal Records 17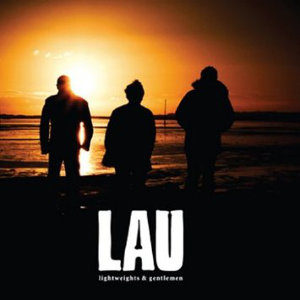 1.    Medley Hinba a)Hinba (O'Rourke)  b)Funny Weather (Green)  5.05
2.   Butcher Boy (trad, Drever) 4.05
3.   Medley The Jigs 4.50
a) Mattie And Karine's (O'Rourke)
b) The Lau Jig (Drever, Green, O'Rourke)
c) The Creche Jig (Scurfield)
4.   Medley Results 4.36
a) Come On Wee Man! (Green)
b) Waiting For the Results (Drever)
5.  Medley Unquiet Grave – The Langs Set (Drever, trad)  5.12
6.  Medley Souter Creek 6.19
a) The Dog And the Rabbit (Drever)
b) A Dog Called Bran (O'Rourke)
c) Souter Creek (O'Rourke)
7.  Medley Kris's 6.26
a) Alyth's (O'Rourke)
b) Muckle Moose On the Muin (Drever)
8.  Freeborn Man (Ewan MacColl) 3.40
9.  Medley Moorhens 4.14
a) The Moorhens (Drever)
b) Rick Taylor's (Green)
c) A Tune For Emily Ball (O'Rourke)
10. Gallowhill (O'Rourke)  6.03
11.  Medley Twa Stewarts 7.33
a) Auld Stewart
b) Young Stewart
c) Last Week's Efforts (all Green)
Produced by: