Disc-Cover!
Interesting albums from the folk and roots music history, by Marius Roeting.
In today's episode: Clannad.
This programme was compiled before all the measures as a result of the Corona crisis became effective. Like many other concerts, the farewell tour we mention has been cancelled.
The Irish band Clannad is on a farewell tour, fifty years after their debut at the Letterkenny folk festival and the release of their first album. In our programme Folk It on Sunday 19 April, we will inform you about their tour and give an overview of the career of this Irish band.
In today's programme, we won't pay attention to their most commercially successful album, but to an album that played a crucial role in the development of their successful albums and hits in later years. If it wasn't for the album Fuaim, all their later hits like Magical ring, Theme from Harry's game, Newgrange, In a lifetime, etc. would probably not have been released. Fuaim harbours the seeds of all those later successes. On this album, Clannad switched from purely acoustic versions of traditionals to a more arranged sound with keyboards and multitrack vocals; characteristic elements that were later developed even more strongly and led to great successes. Whereas the band previously recorded mainly arranged traditionals and poems to music, the number of own compositions became more predominant.
Fuaim is the only album Clannad made as a sextet. Eithne Ní Bhraonáin, also known as Enya who had a very successful solo career years later, joined the original formation consisting of her two brothers, sister and two uncles and sang the lead vocals on An Túll. You can also find the classics Mhórag 'S Na Horo and The green fields of Gaothdobhair on this album. But actually, all tracks on Fuaim are classics …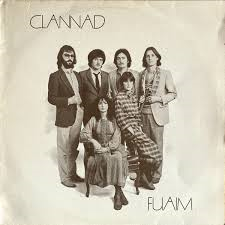 Playlist:
Clannad – Christ church cathedral – Arc Music EUDVD0015
1.   Dulaman 7.01 (trad)
Clannad – Fuaim – Tara CD 3008
2.   Na Buachaillí lainn (C. Ó Braonáin, P. Ó Braonáin) 2.53
3.   Mheall Sí Lena Glórthaí Mé (C. Ó Braonáin, P. Ó Braonáin) 4.15
4.   Bruach Na Carraige Báine (trad) 2.34
5.   Lá Breá Fán Dtuath (C. Ó Braonáin) 0.45
6.   An Túll (C. Ó Braonáin, P. Ó Braonáin) 3.03
7.   Strayed away (Thomas Moore) 2.42
8.   Ní Lá Na Gaoithe Lá Na Scoilb(C.Ó Braonáin,P.Ó Braonáin)6.07
9.   Lish young buy-a-broom (trad) 3.26
10. Mhórag 'S Na Horo Gheallaidh (C.Ó Braonáin, P. Ó Braonáin) 1.40
11.  The green fields of Gaothdobhair(C.Ó Braonáin,P.Ó Braonáin)4.05
12. Buaireadh An Phósta (C. Ó Braonáin, P. Ó Braonáin) 2.51
Clannad – Clannad in Concert – Intercord INT 160.124
13.  Nil se'en la (trad) 11.10
Clannad – Clannad in Concert – Intercord INT 160.124
14.  Nil se'en la (trad) 11.10
Clannad – Christ church cathedral- Arc Music EUDVD0015
15.  Teidhir abhaile riu (trad) 3.53
Produced by: