Disc-Cover!
Interesting albums from the folk and roots music history, by Marius Roeting.
Picking an interesting album by the French folk singer and singer-songwriter Gabriel Yacoub is an arbitrary decision. It's simply a matter of which one. Yacoub has been called the French Dylan, and I think that's an accurate comparison. They lyrics he writes are stunning as are the accompanying melodies. And though he's called a folksinger, a better description might be 'chansonnier moderne'; he is versatile, creative, musically elusive, pushing, nigh on shifting, the boundaries.
He started his career in Alan Stivell's backup band, with which he recorded the albums Chemins de terre and A l'Olympia. In 1973 Yacoub, in collaboration with Marie Yacoub and a number of guest musicians released the album Pierre de Grenoble. Together, the duo founded the band Malicorne, a French counterpart of bands like Fairport Convention and Steeleye Span but with its own unique style. Malicorne evolved, like its British counterparts, into an icon of folkrock in their country.  A year later, the group's self-titled debut album was released, followed by 7 studio albums and 1 live version.
The band broke up after nearly a decade of working together, giving Yacoub the opportunity to work on his solo career. During his time with Malicorne he had already released a fairly traditional album, Trad.Arr, under his own name. In 1987 he decided to relaunch this series of album with an album that was as strange as it was fascinating. On Elementary Level of Faith, produced by ex Kolinda musician Ivan Lantos, electric instruments, including the synthesizer, dominate. However, almost all compositions are by Yacoub himself, who started presenting himself more and more prominently as a songwriter. This album was followed by the more intimate BEL, perhaps Yacoub's most beautiful album. But it's on Quatre where all elements seem to come together: folk, traditional music, rock, acoustic and electric, even the mystical and the intriguing lyrics and ditto eminent melodies. Yacoub places 'folk music' in a new context, separate from the traditional, but still strongly connected to it. A key album in his career.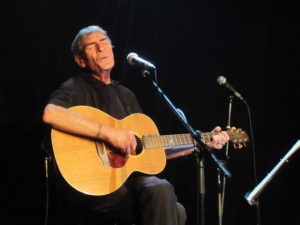 Gabriel Yacoub – Quatre –  Boucherie Productions BP3182
Solide 4.52
Le Plus Rapide Des Oiseaux 4.53
Tant Pis Que l'Exil 4.50
Beauté (trad, Yacoub) / Twelfth Song Of The Thunder (trad, Matheson) 4.35
Je Suis À Court 4.03
Tourne Tourne 4.42
La Mariole (trad) 4.21
Les Blés Sur l'Eau (Melaine Favennec) 5.28
Regarde Bien Petit (Brel) 5.07
Le Sel Et Le Sucre 4.24
Ces Dieux-là 4.45
Les Bannières Qui Claquent 4.24
All compositions: Gabriel Yacoub, except track 4a (trad, arr Yacoub), 4b (trad, arr Matheson), track 8 (Melaine Favennec) track 9 (Jacques Brel)
Produced by: