Disc-Cover!
Interesting albums from the history of folk and roots music, selected by Marius Roeting.
On this episode: an interesting album from the pagan folk scene. Patria Granitica is the third full length album by Portuguese formation Sangre Cavallum, released in 2006. The group is built around composer, lyricist and singer Bruna Ardo. On the Sangre Cavallum albums, he also plays some 25 instruments of the most varied kinds: from an impressive collection of string instruments to keyboards, and from bellows to wind instruments. In comparison, his four musical companions don't seem quite as impressive, although taken together they play a whole arsenal of instruments, too (including keyboards, string instruments, percussion, bagpipes and flutes).
Ardo is inspired by ancient pre-Christian cultures and themes, and Patria Granitica features songs about the 'sign culture' of ancient peoples. These signs are often engraved on ancient stones, pillars, menhirs, but can also be found in ancient remains of fortresses etc. Follow-up album Veleno de Teixo is all about the mother goddess that plays a significant part in the old nature-centered religions and the position and importance of women in those societies. In addition to being inspired by old stories and writings, Ardo is also enthralled by traditional instruments, melodies and compositions, although the majority are his own.
The pagan folk of Sangre Cavallum is dark, sinister and mysterious and can be described as acoustic Gothic folk. Patria Granitica can be considered a genre-defining album within this particular subgenre.

Sangre Cavallum – Pátria Granítica – Ahnstern18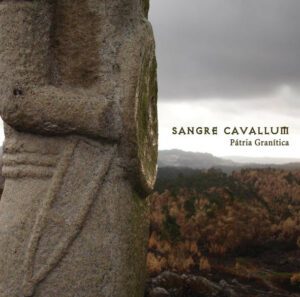 1.      Luras De Breu 3:19
2.      A Canção De Pedra 7:28
3.      Cantilena De Pedreiros 4:17
4.      Monólogo Pétreo 4:57
5.      Pedra-Pátria 3:50
6.      Primabera Dos Bombos De Pedra 5:32
7.      Callæcia Ao Peito 2:53
8.      Igrejas Derrubadas 4:36
9.      Pátria Fecunda 5:45
10.    Nabia Corona 5:50
Sangre Cavallum – Veleno De Teixo – Ahnstern 28
11.    Cego Andante (trad) 5:34
12    Cantiga 2:40
Produced by: