Documento
An educational programme featuring early music. Today we listen to parts from various baroque operas about the Orpheus story.
The story of Orpheus and Euridice, about the mythical singer who retrieved his beloved from the underworld, but lost her again because he looked back, has been an inspiration for many composers and operas.
We listen to parts from the earliest Italian operas, a French baroque opera and a German cantata with this theme.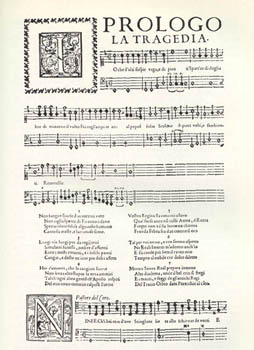 I. Jacopo Peri (1561-1633)
From: Euridice (1600), act 1, scene 2:
–  Lassa, che di spavento e di pietate
–  Per quel vago boschetto
–  Non piango e non sospiro
–  Ahi! Mort' invid' e ria
–  Sconsolati desir, gioie fugaci
Gloria Banditelli, mezzo soprano – Euridice/Tragedia/Proserpina; Gianpaolo Fagotto, tenor – Orfeo; Mario Cecchetti, tenor – Aminta/Radamanto; Giuseppe Zambon, counter tenor – Arcetro; Sergio Foresti, bass – Caronte; Rossana Bertini, soprano – Dafne; Monica Benvenuti, soprano – Venere; Furio Zanasi, bass – Plutone; Paolo Da Col, tenor – Tirsi
Ensemble Arpeggio conducted by Roberto Caro 
(Arts 47276-2, 2001, opname 1992)
II. Giulio Caccini (1551 – 1618)
From: Euridice (1600), act 2, scenes 3 and 4:
–  Non piango e non sospiro
–  Dunque è pur ver
Silvia Frigato, soprano – Euridice/Tragedia (soprano); Furio Zanasi, baritone – Orfeo; Gianpaolo Fagotto, tenor – Arcetro; Luca Dordolo, tenor – Tirsi/Aminta; Sara Mingardo, alto – Dafne/Proserpina; Monica Piccinini, soprano – Venere; Anna Simboli, soprano – Ninfa; Antonio Abete, bass – Plutone; Matteo Bellotto, bass – Radamanto; Mauro Borgioni, baritone – Caronte 
Concerto Italiano conducted by Rinaldo Alessandrini (harpsichord)
(Naïve OP 30552, 2014, live recording 2013)
III. Marc-Antoine Charpentier (1643 – 1704)
From: La descente d'Orfée aux enfers (1686) H 488, act 1 scene 3; act 2, scenes 1 and 2:
–  Que d'un frivole espoir / Juste sujet de pleurs
–  Affreux tourments
–  Cessez, cessez, fameux coupables
–  Quelle touchante voix
–  Je ne refuse point le secours
–  Les Fantomes
Aaron Sheehan, tenor – Orphée; Amanda Forsythe, soprano – Euridice; Douglas Williams, bass-baritone – Pluton; Dorothee Mields, soprano – Proserpine; Jesse Blumberg, baritone – Apollon; Theresa Wakim, soprano – Daphnée; Jason McStoots, tenor – Ixion; Zachary Wilder, tenor – Tantale 
Boston Early Music Festival Chamber Ensemble conducted by Stephen Stubbs
(CPO 777 876-2, 2014)
IV. Antonio Sartorio (1630 – 1680)
From l'Orfeo (1672), Act 3 scene 11 and:
–  Orfeo vincesti
–  Numi, che veggio
–  Misero me, che oprai
Ellen Hargis, soprano – Orfeo; Suzie LeBlanc, soprano – Euridice; Ann Hallenberg, soprano Aristeo; Anne Grimm, soprano – Autonoe; Laurie Reviol, soprano – Telide; Petra Noskalová, mezzo soprano – Orillo; Olof Lilja, tenor – Erinda/Ercole; Rodrigo del Pozo, tenor – Achille; Josep Cabré, baritone – Chirone/Bacco; Harry van der Kamp, bass – Esculapio/Pluto
Teatro Lirico conducted by Stephen Stubbs
(Vanguard 99194, 1999; live recorded on 31-08 en 01-09 1998, Muziekcentrum Vredenburg, Utrecht)
V. Johann Adolf Hasse (1699-1783)
From: Cantate 'Dalle tenebre orrende: Orfeo ed Euridice':
–  Recitative: Vieni dell'alma mia
–  Duet: Fatal forza
Mária Zádori, soprano; Noémi Kiss, soprano; Affetti Musicali conducted by János Malina 
(Hungaroton HCD 31843, 2000)
Complement:
VI. Marc-Antoine Charpentier
From: La descente d'Orfée aux enfers (1686) H 488:
–  Ouverture
Boston Early Music Festival Chamber Ensemble conducted by Stephen Stubbs 
(CPO 777 876-2, 2014)
Producer: