DreamScenes
"21 PEOPLE IN MY BATHROOM"
  A non-stop mix of ambient soundscapes, experimental electronics and modern classical music.
"Singing is good for you! Singing has been demonstrated to improve mental health and wellbeing. […] Studies have also shown that singing can help people suffering from long-term chronic pain and can have a real impact on the amount of pain relief medication used by participants.
Instructions
Place your phone in a convex kitchen or fruit bowl to aid amplification. It may be necessary to steady the bowl with a cloth as in the picture below.
Action
To sing along with the audio in your bath and relax."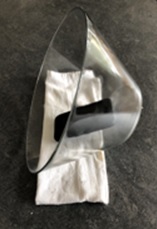 [instructions for Monty Adkins' '21 People In My Bathroom']  

Tracklist:
00:00 DreamScenes – Intro (Susanna)
00:41 Gyda Valtysdottir – Air To Breath (Daniel Bjarnason)
Epicycle II, 2020, Sono Luminus
04:50 Flica – Entrance To The Woods
Tappskog, 2020, Schole Records
07:59 Claire Deak & Tony Dupré – The Rain
The Old Capital, 2020, Lost Tribe Sound
12:01 Max Richter – Murmuration (Voiceless Mix)
Voices, 2020, Decca Records
19:07 Echoflex – B Phrygian
Piano Net, 2020, SeeHear; release Oct 10
23:00 Monty Adkins – 21 People In My Bathroom (20 Personas En Mi Baño) (edit)
La Casa Suena, 2020, Antioquia
28:08 Monty Adkins – At The Waters Edge
Exhibition #100, 2020, Audiobulb
36:06 Atrium Carceri – Fallgrim
Mortal Shell Soundtrack, 2020, Cryo Chamber
38:13 Lucrecia Dalt – Seca
No Era Sólida, 2020, RVNG Intl
40:14 Emile Bojesen – Scrape 6 
Scrape, 2020, Line
41:38 Snowdrops (Christine Ott & Mathieu Gabry) – Ultraviolet
Volutes, 2020, Injazero Records
47:40 Olivier Alary & Johannes Malfatti – Alone, Singing
U,I, 2020, Fat Cat Records/130701
51:50 Fovea Hex – Lanza
Is Lanza Light & Given (Steve Wilson Remixes), 2019, Janet Records
59:00 DreamScenes – Outro (Dean Hurley)
DreamScenes editions are also available as a podcast.
Produced by:

Peter van Cooten