Exitos Musicales
LATA MANGESHKAR (part 5) "THE MELODY QUEEN" of India "SPECIALS" (part 4) .
In 1992 BBC Channel 4 broadcast what turned out the be probably the 'greatest special of all time', the 6-part, half-hour documentary called 'LATA IN HER OWN VOICE'. Despite this only being available 'on screen', the Concertzender has created an audio version especially for our audience. Listen to the song with which Lata conquered the entire Asian continent.
We've also made a collection of highlights to give you a full picture of this singer's truly fabulous career. We'll take a look at her career from the age of 13. She did not like being a movie star very much, but she soon became the most demanded singer of everything from popular film music to light classical music and everything in between.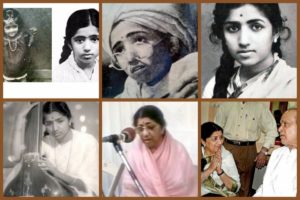 Playlist:
 1) Intro music 'LATA IN HER OWN VOICE' from the movie 'LEKIN' (Mangeskar)
TV documentary, broadcast by BBC Chanel 4 in 1992
2) "Ayega aanewala" from the movie 'MAHAL' 1949 (Khemchand Pra­kash/J.Nakshab)
Followed by the version from 1990 (audiotrack from the documentary)
3) "Natali Chaitraachi navalaai" from the movie 'PAHILI MANGALAA-GAUR' (Comp.: Dada Chandekar)
4) "Maata tere charnon mein" (bhajan) from the movie: 'BADI MAA' (1945) (Comp. K. Dutta)
5) "Paa lagoon kar jori" from the movie 'AAP KI SEVA MEIN' (1946) (Comp.: Datta Davjekar)
6) "Dil mere toda, mujhe kahin ka na chhora" from the movie: 'MAJBOOR' (1948) (Lyrics Nazim Panipati)
7) "Aaja Re Pardesi" from the movie 'MADHUMATI' (1958) (Comp. Salil Chowdhury's)
8)  "Pyar Kiya To Darna Kya" from the movie 'MUGHAL-E-AZAM' (1960) (Naushad Ali)
9) "Kahin Deep Jale Kahin Dil" from the movie 'BEES SAAL BAAD' (1962) (Hemant Kumar)
Followed by the live version from Royal Albert Hall, London (1974)
10) "Beeti Na Bitai" from the movie 'PARICHAY' (1973) (Comp. R. D. Burman, Tekst Gulzar)
11) 'Ram Ka Gun Gaan Kariye' – BHIMSEN JOSHI & LATA MANGESHKAR
Album 'RAM KA GUN GAAN KARIYE' (1985) (Meera)
12) "Ram Bhajan Kar Men" – LATA MANGESHKAR
Album 'RAM KA GUN GAAN KARIYE' (1985) (Meera)
Produced by: