Exitos Musicales
Salsa à la The Beatles
Music from the US influenced the music in the rest of the Western world gigantically, especially after World War II. But also the music of South America, particularly from Cuba, Puerto Rico and Brazil, had a strong influence on our music, and the other way round. In these countries, they tried to play Western music, or at least, to enrich their music with it. Still, it was hard to get into the US with your music, because of the protection offered by the government (the unions) to the American musicians. So it took a lot of effort to have Americans freak out to music from other continents, but The Beatles did it! Their first concert in the US was an unprecedented success, and the Americans were tremendously enthusiastic.
Ralph Mercado, born in 1941, saw it all. He was a successful musician (having Dominican and Puerto-Rican roots), lived in the heart of the Latin music scene of New York, and got to be the major manager of Latin-American artists. In early 1972, he established one of the most successful record labels of that period; this brought him many awards. The name of the label was RMM (Ralph Mercado Management) and he contracted very important names, such as Tito Puente and Celia Cruz.
In 1996 he decided to give shape to his love for the music from Great Britain and The Beatles in particular, by getting all his stars together with their accompanying orchestras for a monster production. Only compositions of John Lennon and Paul McCartney, already famous throughout the world, were to be recorded (played in the 'Latin way'), in four different studios in Miami, Puerto Rico and New York. The final mixing was done by the top mixers of the Soundtrack Studios in New York. All this resulted in a splendid CD with the most famous vocalists and musicians from the popular Salsa age.
Playlist:
1 Hey Jude – TONY VEGA
2 Let it be – TITO NIEVES, TITO PUENTE
3 Can't buy me love (No puedes comprarme) – YANKO
4 A hard day's night – JOHNNY RIVERA
5 Obladí obladá – CELIA CRUZ
6 Fool on the hill – RAY SEPULVEDA
7 I want to hold your hand (Tu mano cogere) – MANNY MANUEL
8 Day tripper – DOMINGO QUIÑONES
9 Lady Madonna – OSCAR D'LEÓN
10 Yesterday – CHEO FELICIANO
11 Come together (Vamos juntos) – ALL ARTISTS + TITO PUENTE
All compositions by JOHN LENNON & PAUL MCCARTNEY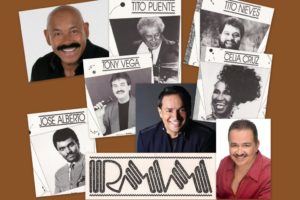 RMM Records, RMD 82011 (1996)
Produced by: