Harmonious
Compiled by our Modern Music-desk. Orpheus.
Orpheus.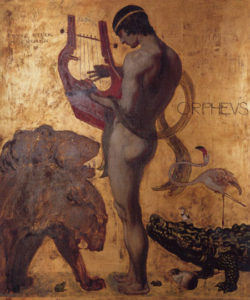 1. William Schuman. A song of Orpheus.
Yehuda Hanani, cello. RTE National Symphony Orchestra conducted by Wiliam Eddins.
2. Jean-Luc Darbellay. Ein Garten für Orpheus.
Olivier Darbellay, horn. Markus Niederhauser, basset horn. Camerata Bern conducted by Erich Höbarth.
3. Arthur Dangel.
Orpheus, concerto for violin and choir, opus 41.
Susanne Lautenbacher, violin, Kammerchor Stuttgart conducted by Frieder Bernius.
Produced by: