JazzNotJazz Music & Politics
Music & Politics. Episode #17. The truth must be told.
CLAIM:
Lies, fake news, hidden secrets, we must stop all of this.
We are in a world where we can find the only truth , the real truth in the relation between arts and human being.
This 6th episode of Music & Politics talk about this, every track is telling the truth, no doubt.
And we are here for that.
PLAYLIST:
1) MR JOHNSON: Harold Mabern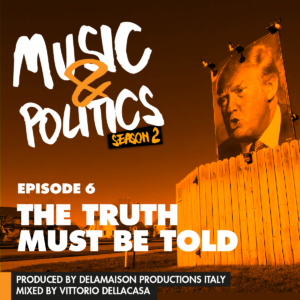 2) STRAIGHT ON TILL SUNRISE: Four80East
3) ALMOST WENT TOO FAR: Joe Armon-Jones
4) GRAVITATE: Oscar Jerome
5) PACHAMAMA: Thana Alexa feat. Regina Carter
6) BLACK QUALLS: THUNDERCAT feat. Steve Lacy, Steve Arrington, Childish Gambino
7) BROTHERS IN ARMS: Gregoire Maret , Romain Collin , Bill Frisell
8) IBRIK: Bonobo
9) NAIMA: John Coltrane
10) UNIVERSAL MOTHER: Don Cherry
Produced by: