JazzNotJazz Music & Politics
Music & Politics. Episode #34. SANTA CLAUS GOES STRAIGHT TO THE GHETTO
CLAIM:
This is the last comp of the year. Another difficult year for the body and the soul.
Trouble is we soon forget the long road we are walking right now.
It's time for a long trumpet solo and drum fill.
It's time to go back to the ghetto, where the blues belong
This comp is dedicated to all the blues souls out there.
1) SUN KISSED CHILD: Kamasi Washington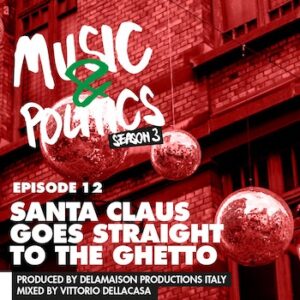 2) RECKONING: Donny Mccaslin
3) GOD WILLING: Mansur Brown
4) BREAK THE CHAINS: The Brkn Record
5) JAI RAMACHANDRA: Alice Coltrane
6) MARRAKUSH: Electric Kif
7) EVER PRESENT: Portico Quartet
8) SINIVILE: Sisonke Xonti
9) SANDSTORM: III Considered
10) STRONG WILLED: Pavel Myliakov
Yana Pavlova
11) BIBOUL YOUSSEF: Matthias Bublath
12) NEW KID: Bear Garden
13) SANTA CLAUS GOES STRAIGHT TO THE GHETTO (EDIT): James Brown
Produced by: