JazzNotJazz Music & Politics
Music & Politics. Episode #35. DIFFERENT.
Most of the days we spent in the last two years were bitter and with no sun for our soul.
We need to come back to life, a different one may be but we need to be alive again.
This first comp of the 2022 is a long session of different tracks , different and with nothing to do one to the other . This is what we should be in the next months, different, not better, just different.
PLAYLIST:
1) AFRO GOLDEN LINE: Amir Bresler
2) FORWARD PROGRESSION: Theon Cross
3) BLACK RHYTHM HAPPENING: Makaya Mcraven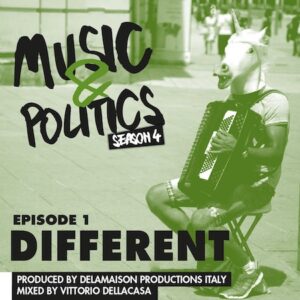 4) IMAGINEERING: Nightmares on Wax
5) CONDUCTION NO. UNKNOW: Nublu Orchestra & Butch Morris
6) MAGNETAR (LIVE) : Mark Lettieri Group feat. Shaun Martin
7) OHIO / MACHINE GUN : The Isley Brothers
8) SESSION ADD: Skee Mask
9) THE PILE: Scrimshire
10) CAMELUS: John Scofield Uberjam
Produced by: