JazzNotJazz Music & Politics
Music & Politics. Episode #39. GIOVANI D'OGGI
CLAIM:
why no one of the old generation not trusting the young generation?
It's a simple answer, total cancellation of the comfort zone.
It's still the big battle between the old world and the new world, we still there, pfffff.
We love Giovani D'oggi, they are the nowadays chaps and we should listen to them .
At least we should appreciate the way they are struggling for their future.
PLAYLIST:
1) MOUN PT.2 : James Beckwith
2) DON'T BREAK : Immanuel Wilkins feat Farafina Kan Percussion Ensemble
3) BETTER THAN I IMAGED: Robert Glasper feat. H.E.R & Meshell Ndegeocello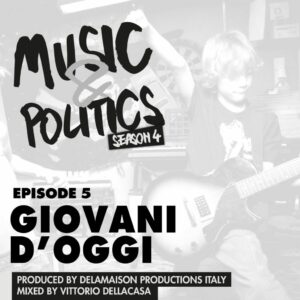 4) DREAMERS : Mark Lockheart
5) CROSSING COLOURS: Silke Eberhard, Potsa Lotsa XI
6) UPWARDS: Black Flower
7) ALCOHOL: Sault
8) MUNCH: The jazz Defenders
9) WILDFLOWER: Robohand
10) GIOVANI D'OGGI: Giovanni Tommaso
11) BEGIN AGAIN: Archie The Goldfish
12) WE GIVE THANKS: Kokoroko
13) TIMES: DoomCannon feat. Lex Amor
Produced by: