Jordi Savall
Series about and with Catalan gambist and conductor Jordi Savall. Spotlight on his CD book Dinastia Borgia, part 3 and ending.
Francesco Borja, who was declared holy later in his life, was born in Gandia, Spain, 500 years ago in 2010. On that occasion AliaVox released a CD box with profane and religious music from the era of the Borgias. On these 3 Cds, Jordi Savall collected music from earlier recordings, which mainly originated in Andalusia and Italy.
This third episode contains compositions from the era of battles and treaties this dynasty of kings was part of, but also from the time of the Counter Reformation in which the holy Francesco Borgia (1510-1572) played the principal role as leader of the Jesuits.
The programme is completed by five tracks of the older CD España Antigua (1991).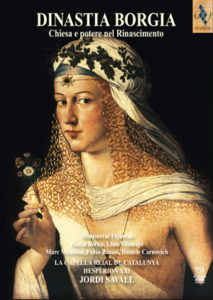 Clément Janequin/Tielman Susato
1: La Batalla
Mateu Flecha
2: Todos los buenos soldados
Lluís de Mila
3: Fantasia II
Bartomeo Cárceres
4: Tau garçó la durundena
anoniem
5: Meis olhos van por lo mare
Juan Román
6: Pavana "O voy" anoniem
Francisco de Borja
7: Credo in unum Deum
Venegas de Henestrosa
8: Kyrië I (harp)
Teresa de Jesús
9: Alma Buscarte has en Mi
Christóbal de Morales
10: Lachrimosa dies illa
Josquin Des Prez/ Luys Narváez
11: Mille Regrets
Claude Goudimel
12: Psalm 35; Deba contre mes debateurs
Christóbal de Morales
13: Pie Jesu Domine
Montserrat Figueras, soprano. Pascal Bertin, altus. Lluís Vilamajó, tenor. Marc Mauillon, baritone. Furio Zanasi and Daniele Carnovich, bass.
Hespèrion XXI & La Capella Reial de Catalunya conducted by Jordi Savall
(CD Dinastia Borgia, Chiesa e potere nel Rinascimento – AliaVox AVSA 9875 C)
anonymous:
14: Pues non me quereis
Diego Ortiz
15: Folia VIII
Antonio de Santa Cruz
16: Jacaras
Juan Batista Cabanilles
17: Tocata
Gaucelm Faidit
18: Vos que'm semblatz dels corals amadors
Additional:
anonymous
19: Propiñán de Melyor
Luís de Milán
20: Fantasía
Montserrat Figueras, soprano. Josep Benet, bass. Hespèrion XX conducted by Jordi Savall
(CD España Antigua – 2002 EMI Classics Benelux, Veritas 1989/1990/1991 7243 5757092 3)
Produced by: