L'Esprit Baroque
The baroque spirit in all his musical shapes. Today you will hear music for Christmas by Christoph Graupner.
Unlike his contemporary Johann Sebastian Bach, Graupner did not write a Christmas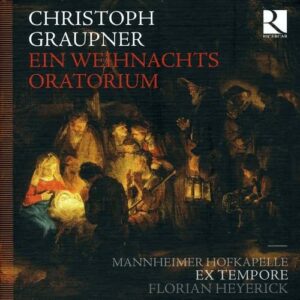 oratorio. But as Kapellmeister at the count's court in Darmstadt, he did write 1418 church cantatas over time for all feast days and Sundays in the church year, 192 of them for Advent and Christmas.
Belgian musicologist and conductor Florian Heyerick has selected eight cantatas from the first Sunday of Advent to Epiphany. And of these, we let you hear three today for Christmas Day, Boxing Day and New Year's Day.
Christoph Graupner (1683 – 1760)
1. Cantata for Christmas Day: "Jauchzet ihr Himmel, erfreue dich Erde" (GWV 1105/53, 1753)
– I Coro: Jauchtzet ihr Himmel, erfreue dich Erde
– II Recitativo: O Mensch, erstaunst du nicht?
– III Aria: Herz und Seele sind voll Wonne
– IV Choral: Willkomm', o süßer Bräutigam
– V Recitativo: Wie gar unendlich groß
– VI Aria: Komm mein Freund, mein Heil, mein König
– VII Recitativo: Ja, ja, Du kommst zu mir
– VIII Coro: Gott ist Gott und keiner mehr
2. Cantata for Boxing Day: "Sie eifern um Gott" (GWV 1106/46, 1746)
– I Accompagnato: Sie eifern um Gott, aber mit Unverstand
– II Recitativo: Der Eifer wirdt gar leicht zur Sünde
– III Aria: Die Wahrheit fördert ihre Sache
– IV Recitativo: Weh dem, der treuer Zeugen Eifer
– V Aria: Alles wil su diesen Zeiten
– VI Choral: Ach Gott vom Himmel sieh doch drein
3. Cantata for New Year's Day: "Gott sei uns gnädig" (GWV 1109/41, 1741)
– I Coro: Gott sei uns gnädig und sehne uns
– II Accompagnato: Das alte Jahr ist hin
– III Coro: Jesu ewger Hoherpriester
– IV Recitativo: Sind viele deiner Huld nicht wert
– V Coro: Öffne Jesu deine Hände
– VI Accompagnato: Lass allen Reichtum deiner Schätze
– VII Choral: Gott sei uns gnädig und barmherzig
Elisabeth Scholl, Amaryllis Dieltiens, soprano. Reinoud van Mechelen, Lothar Blum, tenor. Stefan Geyer, baritone. Ex tempore and Mannheimer Hofkapelle conducted by Florian Heyerick
(CD: Christoph Graupner – Ein Weihnachtsoratorium. Ricercar RIC 307, 2010)
Supplement:
4. From Triple Concert in C (GWV 306)
– I Vivace
Academia Daniel conducted by Shalev Ad-El
(CD: Christoph Graupner – Concerti e Musica di Tavola. CPO 777 645-2, 2015)
Produced by: