Mariama
Senegalese selection with early and new mbalax.
 
Thione and Waly Seck
Mariama presents a Senegalese selection once again. In this broadcast, early and new mbalax by artists such as Waly Seck and his father Thione Seck, Titi and the suburb formation Jeri Jeri led by famous techno producer Mark Ernestus.


Titi
Mbalax is populair music based on the traditional sabar and a Senegalese touch is present in all of it.
Besides that, we play a live recording of the Swedish-Senegalese love duo Sousou and Maher Cissoko, and you can hear folk singer Diogal Sakho.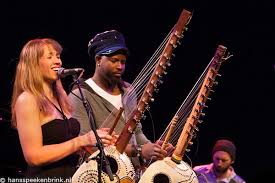 Maher & Sousou Cissoko
Waly Seck. Lambeji.
Africando All Stars Feat. Thione Seck.
Cd. The Rough Guide to the Music of Senegal (2013). World Music Network. RGNET1284
Titi. Gen ji Dekk.
Cd. Titi La Lionne (2013). Prince Art.
Kasumai. Tanya (a tribute to Sagar's wife).
Cd. Senegal Urban Rhythms (2005). Arc Music 0:02:27 Mark Ernestus present Jeri Jeri. Xale feat Mbene Seck. 800% Ndagga (Mark Ernestus Presents Jeri-Jeri) (2013)). Ndagga ND-06
Pape Diouf. Dioff yor. Degg dathh (2013)
Djiby Drame. Domou Sine nouveau. Boursine (2014)
Diogal Sakho – Massa Thiono (Senegal)
Maher & Sousou Cissoko. Allah Lake World Sessions Live. Vredenburg Utrecht 2013.
Pape Ndiaye. Tapha Cissé, Yoro Ndiaye, Shula, Bouba Kirikou, Cheikh Guissé.  DaDJe
Etoile De Dakar feat. Youssou N'Dour: Thiely. Cd. The Rough Guide to the Music of Senegal (2013). World Music Network. RGNET1284.
Mark Ernestus present Jeri Jeri Baaba Maal. Maal. Gawlo. 800% Ndagga (Mark Ernestus Presents Jeri-Jeri) (2013)). Ndagga ND-06
Titi. Saliou. Titi La Lionne. (2013). Prince Art
Producer: