Mariama
Music from Mali (part 2).
Mamadou Kelly
This programme is dedicated to music from Mali. Mali, a country that is inextricably bound up with music. A country of which music is its greatest treasure, its greatest export product. The extreme Islamites who threatened to forbid music there are not from Mali themselves.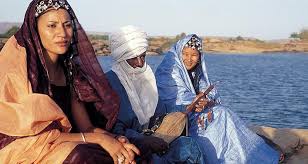 Tartit
Music, it is agreed by Toearegs like Bambara, is an essential part of Mali. In this Mariama you can hear: Khaira Arby, Bassekou Kouyaté, Mamadou Kelly, Al Bilali Soudan, and Sekouba Traoré & Mahmoud Ghinia.
Tartit & Imharhan. Abacabok Part 2 (Tartit & Imharhan).
CD: Tartit with Imharhan – Live from the Sahara (2013). Clermont Music, CLE006
Al Bilali Soudan. Djaba (traditioneel).
CD: Al Bilali Soudan – Al Bilali Soudan (2012). Clermont Music, CLE-01-2012
Khaira Arby. Djaba (m/w: Khaira Arby & Dedeou Hanteteou / Khaira Arby).
CD: Khaira Arby – Timbuktu Tarab (2010). Clermont Music
Mamadou Kelly. Goué Ini Bongossé (Mamadou Kelly).
CD: Mamadou Kelly – Adibar (2013). Clermont Music, CLE007
Bassekou Kouyaté & Ngoni Ba feat. Zoumana Tereta. Mali Koori (Bassekou Kouyaté).
CD: Bassekou Kouyaté & Ngoni Ba – Jama Ko (2013). Out Here Rec, OH 021
Sidi Touré. La Paix/Peace (??).
CD: Sidi Touré – Alafia (2013). Thrill Jockey Records, Thrill 347
Habib Koité. Diarabi Niani (Habib Koité).
CD: Habib Koité – Soô (2014). Contre-Jour, CJ030
Siaka Sidibé Ensemble. Siginyògònjugu (traditioneel).
CD: Siaka Sidibé Ensemble │Sidikiba Keita – Hunter's Harp Music from Mali (2008). Pan Records, PAN 2108
Sekouba Traoré & Mahmoud Ghinia. Saya/Sibayi/Djidja/Mouga Mouga Bolila (traditioneel).
CD: Sekouba Traoré & Mahmoud Ghinia – Wlad Bambara (2000?). A-Shams, 1037
Producer: