Mariama
Nigerian Igbo Highlife: Chief Stephen Osita Osadebe & His Nigeria Sound Makers International. Compiled by Kees Schuil from his collection of African music.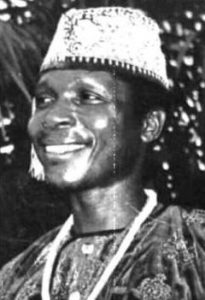 Chief Stephen Osita Osadebe is born in the little Igbo town of Atani (which lies on the river Niger in South East Nigeria) on 17 March 1936. His interest in music begins during his school time in Onitsha, a large city 17km up the Niger. Osadebe's musical career starts by singing in nightclubs in the city of Lagos. When he becomes increasingly popular, his family in Atani hears about it, and they are not pleased. Yielding to the pressure they exert, he travels to the Soviet Union, where he graduates in law, specialization: trade unions.
After having returned to Nigeria, he forms the band Nigeria Sound Makers International in 1964.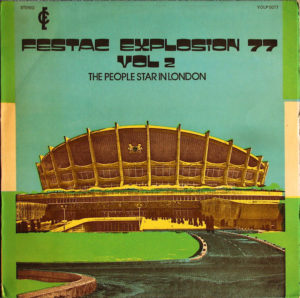 On the occasion of Festac '77, the big international cultural festival held in 1977 in Lagos (the Second World Black and African Festival of Arts and Culture), Osadebe produces the album "Festac Explosion77".
His 'official' surname "The Consistent Highlife King" soon becomes 'unofficially' "The Doctor of Hypertension".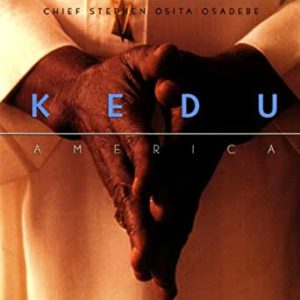 As of 1986, Osadebe spends more time with his children, and gives less of his time to music. But in 1994, he goes on tour in North America with his band the Sound Makers. There he records the CD entitled "Kedu America", on which also several numbers which made him famous earlier. Such as, the very popular number "Osondi Owendi", which is only surpassed by "Sweet Mother" of Nico Mbarga in terms of sales figures. The meaning of the Igbo text is: "Some people are happy with it,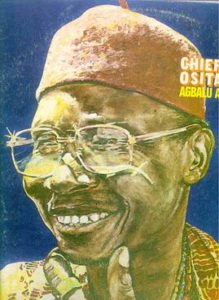 others unhappy", or: "There's no accounting for taste". The number "Aye Mama" is in Pidgin English, and is about gossiping: "If you eat, people gossip about you – If you don't eat, people gossip about you".
Chief Stephen Osita Osadebe dies on 11 May 2007 in Waterbury, Connecticut, in the US.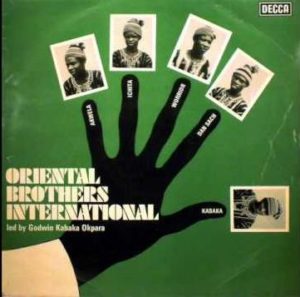 Another very successful Igbo band was Oriental Brothers International. This band is started by Godwin Kabaka Opara after the ending of the Nigerian-Biafran civil war in 1970. Already in 1977, there is a first split of the Oriental Brothers band, when Godwin Kabaka Opara leaves Oriental Brothers to start his own band.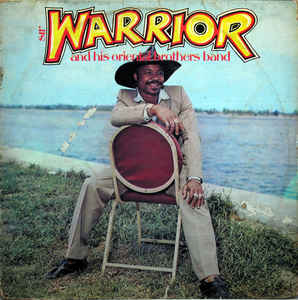 After many quarrels and even more break-aways, Christogonus Ezebuiro Obinna, alias Dr Sir Warrior, is the only founder of the band left. He calls the band: "Dr Sir Warrior & His Oriental Brothers International Band". He himself is the leader of the band and, once more, has great success.
Special thanks to Barbera Schuil, for putting her African LPs to our disposal.
Playlist:
Chief Stephen Osita Osadebe & His Nigeria Sound Makers International: Odindu Nyuliba, 3'27, author: Osadebe, LP African Music, 1983, VERTIGO 814 480-1 / LP Osadebe '75, 1975, Polydor POLP 001
Chief Stephen Osita Osadebe: Ngozy ka, 6'56, LP Festac Explosion77 vol.2, 1973/1976, CHIEMEKA RECORDS VOLP 007
Chief Stephen Osita Osadebe: Onu Kwulunjo, 3'58, author: Osadebe, LP African Music, 1981/1983, Polydor ‎POLP 056
Chief Stephen Osita Osadebe: Osondi Owendi, 7'51, author: Osadebe, CD Kedu America, 1996, Xenophile CT 06810
Chief Stephen Osita Osadebe: Nyem Obi Gi, 5'50, author: Osadebe, CD Kedu America, 1996, Xenophile CT 06810
Oriental Brothers International: Nwayi Di Ya Bu Eze, 4'48, author: Ferdinand Opara, LP Nwa Ada Di Nma, 1975, Afrodisia DWAPS 59
Oriental Brothers International: Onye Oma, 4'55, author: Ferdinand Opara, LP Nwa Ada Di Nma, 1975, Afrodisia DWAPS 59
Oriental Brothers International: Onye Si Nani Ya Biri, 4'56, author: Godwin Kabaka, LP Nwa Ada Di Nma, 1975, Afrodisia DWAPS 59
Chief Stephen Osita Osadebe: Nwanem Ebezina, 7'30, author: Osadebe, CD Kedu America, 1996, Xenophile CT 06810
Chief Stephen Osita Osadebe: Aye Mama, 6'19, author: Osadebe, CD Kedu America, 1996, Xenophile CT 06810
Dr Sir Warrior & His Oriental Brothers Band: Omemma Special, (18'3), author: Vicky Edimo, LP Jide Nkegi, 1982, African DWA 2157
Produced by: