Musica Maluku!
IMusica Maluku! Episode 27.
Traditions and fieldwork recordings – The Hobbel collection part 4
Musica Maluku! is a series broadcasts about the music from Maluku and Moluccans in the Netherlands. About folklore, songs about fishing and sailing, Islamic rituals, church choirs, war dances, indo rock and experimental pop.
In part 27 a selection of recordings of the so called Hobbel collection, in particular Central Maluku.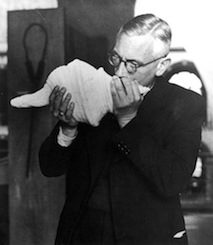 The 'Hobbel' collection is a collection of records named after its collector J. Hobbel, lieutenant at the Service Army contacts. In 1950 this collection came into the possition of the Royal Tropical Institute in Amsterdam (Dutch: KIT). The former Kit curator of music, Jaap Kunst (1891-1960), has been able to draw from it for an LP which he put together with Alan Lomax for the Columbia label among other things. The collection contains musical recordings from circa 1948, primarily in places of the central and southeastern part of the Moluccan islands. The large part is recorded in Central Maluku.
Outside the city of Ambon and villages on the islands of Ambon and Saparua, exclusive recordings were made on islands and places that were called at by the Royal Packet Navigation Company (Dutch: KPM) at the time. It also shows from the remaining travel reports that people travelled with KPM ships.
As yet the reason why the Hobbel collection was put together is unclear. It seems as if the music was meant for the use of radio broadcasts. The NIROM (the forerunner of Radio Netherlands Worldwide) made recordings in Indonesia which were send to the Netherlands. Besides musical recordings the records also consisted of introductory talks with pauses for music examples, interviews and speeches on the occasion of the festivities in the city of Ambon round the 50th anniversary and the inauguration of Queen Juliana in 1948.
SAPARUA – Saparua / totobuang orchestra
1. Hola-hola
2. Lagu tanah
3. Tana dansi
4. Wals – AMBON
AMBON – Ambon / Gloria choir
5.   Beri damai di hati
6.   Caharlilah yang hilang
7.   Dulu aku tunduk muka
AMBON – Ambon / MP Band Major Samson
8.   Hata wano
9.   Hela Arumbai
10. Terto nadia
AMBON – Hatalai / Orchestra Hatalai
11. Buang mea
12. Katredji
13. Mari nyong beramai-ramai
14. Nusaniwe tanjung
15. Pagi dan sore
16. Quadrille
17. Waktu Sekarang
Producer: