Orient Express
Traditional classical music from India.
Raag Rageshree, a raga for the night, performers: the singer Pandit Vyas, Purshottam Walawalkar, harmonium, Shashikany Muley, tabla, and Sarang Vyas, tanpura. This is a recording of the Festival of Pune 2006. Cd. Navras NRCD 0231.
2. Four short performances of ragas,
a. Bhoopal Tôdi, by the singer Ajoy Chakrbarty  (picture on the left).
b. Raag Yamani Bilawal by Asnare Kelkar.
c. Raag Shuha by singer Pandit Jasraj. Cd. Navras NRCD 0197.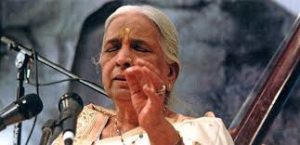 3. Thumri in Raag Misra Des, by singer Girija Devi, accompanied by Sandeep Das, tabla, Manulal Mishra, harmonium and Santosh Mishra, sarangi. Double CD. Sense 004.
Produced by: