Orient Express
INDIA – USA – PERZIE : muziek van Ravi Shankar, Philip Glass en het Ensemble Ghazal .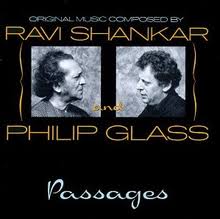 1- Passages – Ravi Shankar & Philip Glass.
On this album there are three compositions by Ravi Shankar and three by Philip Glass. What becomes especially clear is the influence of Ravi Shankar and his tabla player Alla Rakha on Glass. They gave him an insight into the principle of tonality in Indian music. That has contributed to the specific style of Glass as we know it today. Glass's style that was labeled as minimal music, although he himself preferred to talk about "music with repetitive structure". On this album Shankar leans a bit to the west, not so much because of the nature of the compositions, but because of the choice of instruments.
Label: Music on CD (1990), code: OCCD 13041 | Ariola, code: 260.947 | VIDEO
2- Fire – Ensemble Ghazal.
Founded in 1997 by Shujaat Husain Khan and Kayhan Kalhor, long recognized as master musicians in their home country, the Ghazal Ensemble has bewildered audiences around the world with its unique music, consisting of improvisations based on the traditional Indian and Persian repertoire . A fascinating musical debut by the renowned Indian-Iranian Ensemble Ghazal.
Cd. The rain: Persian and Indian improvisations – Ghazal, Kayhan Kalhor, Ustad Shujaat Husaín Khan. Label: ECM Records (2003), code: 666272 | VIDEO
Special thanks to:


Produced by:

Cobie Ivens