Orient Express
Moroccan Sufi and Religious music. Ramadan Special.
Moroccan Sufi and Religious music. Ramadan Special.
Another special episode in the occasion of the holy Islamic month of Ramadan and the related spirituality and festivities, This episode is dedicated to the  Islamic Sufi and religious song, mainly from Morocco. Morocco has a very broad and rich tradition and many different kinds of religious and Sufi song and music. Only a few examples in this episode.
A great part of Islamic Sufi tradition originated in Moorish Andalusia – in the Iberian peninsula – and Morocco in the 12th and 13th centuries. This period saw many great Sufi mystics who travelled with their thoughts and poems through North Africa and the Middle East. Their poems are often the source of the religious and Sufi songs sung in the region to this day.
The text is typically by great Sufi poets and mistici as Abu Madyan , Ibn Sahl  of Seville (1212–1251), Ibn Mashish  and of course the great Ibn al- Farid (Cairo 1181 – 1234). Also Mohammed al-Harraq ,also  examples of the popular Madih 
More of this kind of music click here .
Playlist:
Intro -Ya Qalb Zurta  –  Al-Haj Muhammad al-Barraq .   1:04
Said Belcadi ensemble and Eduardo Paniagua  Sufi Passion Pneuma PN1120 :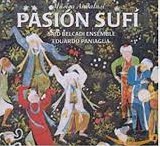 Falillah kam min Lailaten Muwwal , solo Vocal & Ney  09:50  (Poem Íbn Al Farid )
Qul leman laisa yadri,  Sanaa Quddam Mcharqi            3:58
Taqsim Ud Mazmoum                                                         2:45
La Tahsabouni fil hawa                                                     6.22  (Poem Íbn Al Farid (Cairo 1181-1235)
Cofraia  Al-Shushtari & Omar Metioui :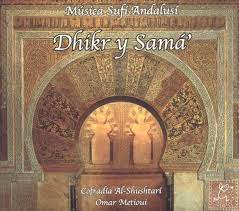 Iftitáhiyya II As-Salát Al-Mashíshiyya (text By – Ibn Mashísh )  06:22
 In Kunta Tunsifuhu                                                                             04:51
Quran Recitation                                                                                 2:45
 Ibtihalat/Amdah  Religious Chant Morocco (Part of)  – Al-Haj Muhammad al-Barraq  (from  Cassette tape   TCK 845)                                                        08:33
Taqsim Ney (Improvisions)  ( Al-Kindi Ensemble  –  Aleppo Syria )    3:45
Azan Bayati (call to prayer ) – Taha Al-Fashni (Egypt)                            04:04
Ala-Mhabatek Ya Rasoula Allah (Prophet Mohamed praise) Morroco  –  Haj Mohamed Bouzoubaa
Produced by: