Orient Express
Traditional music from Iran, Asia and Turkey: 1. Atine – Persiennes d'Iran. 2. Afro Anatolian Tales – Live in Teheran, o.l.v. Sjahin During.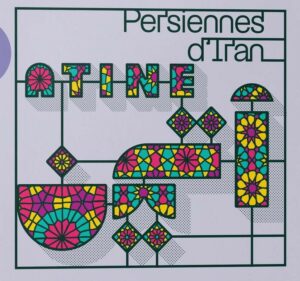 Atine, is a Persian word meaning both "reunited" and "completely original", two words that fit well with this group, whose members come from different horizons and influences. The five female musicians of the group play Persian music, on instruments such as: the tar and qanun, the tombak drum, the rich vocals are reflected by the viola da gamba.
CD. Persiennes d'Iran – Atine.
LABEL: Accords Croisés (2020), code: AC 187.
Afro Anatolian Tales – Live in Tehran. Amsterdam percussionist Sjahin During traveled with two musicians to Tehran to represent the Netherlands at the Fajar music festival in Tehran and work with two of Iran's leading musicians, Kourosh Babaei on kamanche and Ali Rahimi on tombak and daf. That was a very special experience for everyone. While improvising, four subdued and long drawn-out songs were created, the positive tension among musicians and audience can be felt on this live recording.
CD. Afro Anatolian Tales – Live in Teheran.
LABEL: Papyros (2009), code: WCD 5020.
Thanks to:


Produced by: