Orient Express
Al-Andalus – Morocco. Mystical & Devotional Songs.
In this episode of Orient Express we will listen to one of the most beautiful titles of the Spanish Eduardo Paniagua's Pneuma label. A collaboration of Eduardo Paniagua and the Moroccan musician Omar Metioui (Ud). Eduardo is known for his various ensembles devoted to early middle ages music. As well as the founder of the Pneuma label with a lot of music from the Arabic –Andalusian music traditions or inspired by the poetry of Al-Andalus (The Moorish Iberian Peninsula). This CD is particularly distinguished by the beautiful poems and vocals delivered by four Moroccan vocalists (Azzedine al Badri, Mohammed el Arabi Serghini, Mohammed Berraq and Abdel salam el Amrani).
Most of the songs on the CD are based on ancient Islamic Sufi poetry by, for example, Al-Busiri (1212-1294), Ibn al Farid (1181-1235), Ibn Nasir (d.1674) … etc.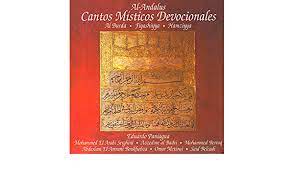 Playlist:
Devoción. Taqsim Qanun (Intro improvisation) (0'56)
Muwal Al Burda . Poem of al-Busiri (1212-1294) (3'30)
Poem attributed to Sidi Bahlul al-Sharqi (4'43)
Introspeción. Irak Ajam. Taqsim Ud improvisation (2'03)
Poem of al-Busiri (1212-1294) sung by Azzedine al Badri (3'39)
Extroversión. Mazmun. Taqsim Ud (3'00)
Ebriedad (Inebriation) (3'49)
Las maravillas de la creación (The marvels of creation). A poem by an unknown poet sung by Mohammed Berraq (13'45)
Pregunta en la oscuridad (Questions in the darkness). Muwaal Al Maya (6'50)
Plegaria Nasirí. (Nasiria) Famous poem of Ibn Nasir (d.1674, Morocco). Sung by Mohammed El Arabi Serghini (6'01)
Oh aquel que se ha engrandecido. Oh he who has become greater (Muwaal). Sung by Mohammed Berraq (10'55)
Produced by: