Orient Express
Sitar concertos and other works: Ravi Shankar, Yehudi Menuhin & the London Symphony & Philharmonic Orchestra.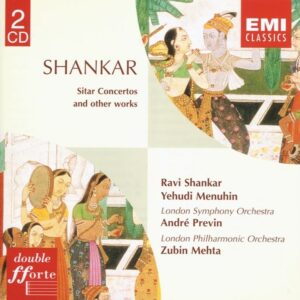 The music that Ravi Shankar plays comes from the north of India, the Hindu part of India. By the time Ravi Shankar was twenty, he had already seen and heard a great deal about the world. No wonder, then, that he took pleasure in bringing East and West closer together. His 1967 album West Meets East topped Billboard's list of best-selling classical albums and won several awards.
The album we are going to listen to contains the legendary concertos for sitar and orchestra plus some solo works by Ravi Shankar. In addition to Shankar you can hear: Yehudi Menuhin (violin), the London Philharmonic and the London Symphony Orchestra.
CD. Sitar concertos and other works – Ravi Shankar.
LABEL: EMI (1998), codes: 5865552 + 5726552. VIDEO
Thanks to:


Produced by:

Cobie Ivens