Orient Express
Soufi music performed by Nezih Uzel & Kudsi Ergüner.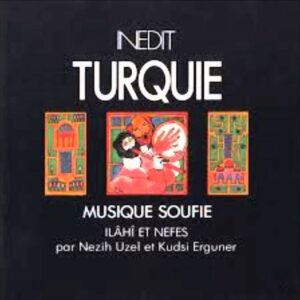 * Percussionist Nezih Uzel was a Turkish journalist, writer and musician. He graduated from High School in Galatasaray. Nezih Uzel worked as a journalist and translator and has published 25 books on various topics; plus 28 records, CDs, cassettes of Soufi music released. Nezih has done a lot for the preservation of Soufi music. He died on May 1, 2012 in Istanbul as a result of a heart attack.
** Flutist Kudsi Erguner was born in Diyarbakir, Turkey in 1952, and has lived in Paris since 1975. He plays the Ney, a Turkish reed flute, but is also active as a musicologist, author, teacher and artistic advisor. He has worked as a musician and composer on several film scores by Martin Scorsese, for the theater plays by Peter Brook and the ballet productions by Maurice Béjart.
CD. Musique soufi – ilahi et nefes – Nezih Uzel & Kudsi Ergüner.
LABEL: Auvidis (1991), code: W 260021. VIDEO
Thanks to:


Produced by:

Cobie Ivens