Orient Express
Traditional-classical music from Tajikistan by the Badakhsan Ensemble.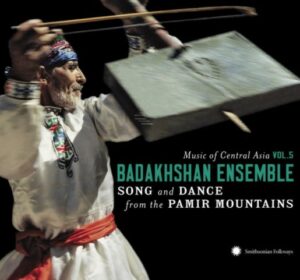 Badakhshan Ensemble.
In Tajikistan's majestic Pamir Mountains, poetically dubbed the "Roof of the World," trance-like rhythms, penetrating melodies and vibrant renditions of folk songs, dance music and mystical religious poetry known as baraka propel.
The Badakhsan Ensemble fuses the sounds of their traditional instruments with the help of a 'Ghizak' (Encyclopedia of Islam).
This album is a co-production of the Aga Khan Trust and the Smithsonian Folkways Recordings label. The aim of the series is to present leading exponents of Central Asia's rich and diverse musical heritage to listeners outside the region.
CD. Music of Central Asia Vol. 5: The Badakhshan Ensemble – Song and Dance from the Pamir Mountains.
LABEL: Smithsonian Folkways Recordings (2007), code:  SFWCD 40524. VIDEO
Thanks to:


Produced by:

Cobie Ivens