Paul Korenhof Browsing the Opera
Opera in the concert hall and on CD, by Paul Korenhof.
With: L'Amico Fritz by Pietro Mascagni.
Pietro Mascagni (1863-1945). L'Amico Fritz (1891) (sel.)
Pia Tassinari (Suzel), Ferruccio Tagliavini (Fritz Kobus),
Saturno Meletti (David), Amalia Pini (Beppe),
Armando Giannotti (Federico), Pier Luigi Latinucci (Hanezo),
Giulia Abba Bersona (Caterina).
Orchestra of the Italian Radio.
Conductor: Pietro Mascagni.
Recording: 1941.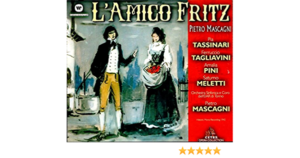 Produced & presented by: