Paul Korenhof Browsing the Opera
Opera in the theatre and on CD, by Paul Korenhof.
Including Turandot by Giacomo Puccini.
Giacomo Puccini (1858-1924). Turandot (1924, completed: Franco Alfano 1926) (sel.)
Birgit Nilsson (Turandot), Renata Tebaldi (Liù),
Jussi Björling (Calaf), Giorgio Tozzi (Timur),
Alessio De Paolis (Altoum),
Mario Sereni (Ping), Piero De Palma (Pang), Tommaso Frascati (Pong).
Opera di Roma.
Conductor: Erich Leinsdorf.
Recording: Rome, July 1959.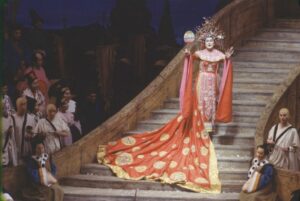 Produced & presented by: