Paul Korenhof Browsing the Opera
Opera in the Concert Hall and on CD.
Including Giacomo Puccini's La Bohème.
Giacomo Puccini (1858-1924). La Bohème (1895/96) (sel).
Renata Tebaldi (Mimì), Carlo Bergonzi (Rodolfo),
Gianna d'Angelo (Musetta), Ettore Bastianini (Marcello),
Cesare Siepi (Colline), Renato Cesari (Schaunard).
Accademia di Santa Cecilia.
Conductor: Tullio Serafin.
Recording: Rome, augustus 1959.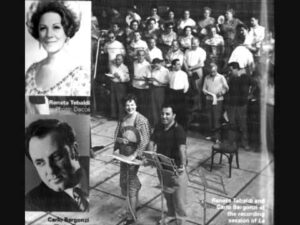 Produced & presented by: