Radio Around the Globe
'The Book of Whispers by Armenian writer, poet, politician and economist Varujan Vosganian.
The history of an Armenian family from Focsani but also of an entire population. A beautiful, sad and above all poetic story.
'Miniatures de Komitas'. Compositions by Sogomon Komitas
Catalogus no CHX 1149
tr 1 to 11     duration: 26.33
Performing: Quatuor Komitas
'Hommage a Komitas' Armenian & German Songs. Compositions Sogoman Komitas
Catalogus no DAX 4642
tr 1/10  duration: 25.02
De Abrikozenboom- Het is lente-Dakloos-Roep, kraanvogel- Lente-Kindergebed-Wiegelied- Als een populier-De hemel is bewolkt- Shoger Djan
Performing: Hasmik Papian, soprano
       Vardan Mamikonian, piano
Visit Literaire Reisboekhandel Evenaar, Singel 348 in the heart of Amsterdam for stories from afar.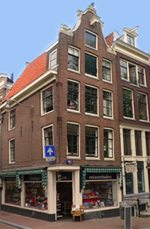 Producer: