Radio Monalisa
Women composers: classical, jazz and contemporary. Producer and host: Patricia Werner Leanse.
Works by Calliope Tsoupaki, Aspasia Nasopoulou & Teresa Carreño [Pictured].
1. Calliope Tsoupaki (Greece, 1963). Thin Air (2020), for solo guitar.
2. Aspasia Nasopoulou (Greece, 1972).
Rodia=H2SO4 (2004), for alto, bass recorders and soprano.
3. Teresa Carreño (Venezuela, 1853 – New York, 1917) [Pictured].
a. Serenade for String Orchestra (1895). b. Corbeille de fleurs (1865), for solo piano.
c. String quartet in b minor (1896).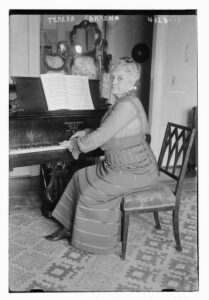 Produced & presented by: