Radio Monalisa
Women composers: classical, jazz and contemporary. Producer and host: Patricia Werner Leanse. Works by the American composer Margaret Bonds (1913-1972).
Margaret Bonds (Illinois, 1913-1972).
1. To a brown girl dead (1933), art song.
2. Troubled Water (1967), for solo piano.
3. Three Dream Portraits (1959), arranged for harp and voice.
4. First movement from the Montgomery Variations (1964).
5. The Ballad of the Brown King (1954), chorus, soloists, and orchestra.
6. Spiritual Suite for solo piano (ca. 1962).
7. The Negro Speaks of Rivers (1942), art song.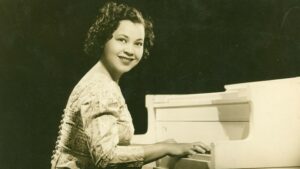 Produced & presented by: