On Cloud Nine
On Cloud Nine, episode 3. This time courtly chansons from the realm of French castles and courts along the Loire. These are surrounded by old recordings of Renaissance dances, first from an early period (16th century), later we immerse ourselves in the transition to the Baroque with Girolamo Frescobaldi.
Giorgio Mainierio (ca. 1535-1582)
1 Schiarazula Marazula
2 Tedesca – Saltarello
Pierre Francisque Caroubel (1556-1611 of 1615)
3 Pavane de Spaigne
4 Courante
5 Volte
Ulsamer Collegium conducted by Josef Ulsamer
Erasmus Widmann (1572-1634)
6 Sophia (No.13) – Anna (No.4)
7 Clara (No.16)
Johann Hermann Schein (1586-1630)
8 Suite No.4 in D major
– Pavane
– Gaillarde
– Courante
– Allemande – Tripla
Collegium Terpsichore conducted by Fritz Neumeyer
(CD Renaissance Dance Music, Eloquence 469 641-2)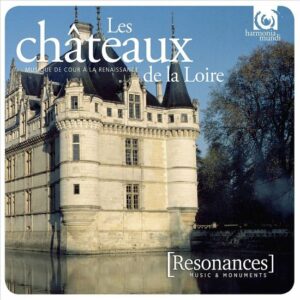 François Regnard (fl. 1570)
9 Ni nuit ne jour
Guillaume Boni (ca.1530-ca.1590)
10 Rossignol mon mignon
11 Las! Sans espoir
Jean de Castro (ca.1540-ca.1600)
12 Je suis tellement langoureux
Albert de Rippe (ca.1500-1551)
13 Fantaisie II pour luth
Guillaume Boni
14 Ha, bel accueil
Roland de Lassus (1532-1594)
15 Une puce j'ay dans l'oreille
Ensemble Clément Janequin conducted by Dominique Visse
Thoinot Arbeau (1519-1595)
16 From 'Orchésographie':
– Pavane "Belle qui tiens ma vie"
– Gaillarde "La traditore my fa morire"
– Gaillarde "Anthoinette"
– Gaillarde "J'aimerais mieuls dormir seulette"
– Gaillarde "La Volte"
The Broadside Band conducted by Jeremy Barlow
(CD Resonances – Les Châteaux de la Loire, CD1: Guerres et banquets royaux, HMX 2908550.51)
Girolamo Frescobaldi (1583-1643)
17 Aria detta la frescobalda
18 Balletto
19 Corrente
20 Passachagli
Addition:
21 Ancidetemi pur d'Archadelt passagiato
Luca Guglielmi, harpsichord
(CD Girolamo Frescobaldi – Stylus fantasticus & the Art of Variation, ACC 24226)
Special thanks to PIAS Harmonia Mundi.
On featured picture: fragment from 'Orchésographie' van Arbeau
Produced by: