Slipped Through The Net
Tato Garcia's Rumba Catalana.
Guitar player Antoine 'Tato' Garcia, who hails from Perpignan in the south of France, grew up with the music of the Gypsy Kings. He is now a valued ambassador of the Rumba Catalana, a music style that originated in gypsy community of Barcelona in the fifties and sixties by mixing Andalusian flamenco with Cuban influences and rock 'n roll.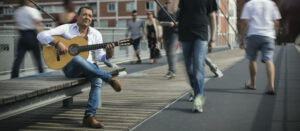 Produced by: