Radio Around The Globe
Metamorphosis Insectorum Surinamensium ( 1705) by Maria Sybilla Merian (1647-1717), a painter/botanist who travels with her two daughters from Frankfurt, Germany to Friesland, The Netherlands and eventually settles in Amsterdam.
The book is about her findings during her stay in Suriname, has graphics and notes and was re-published late 2016.
The music:
1. Tune Sijbrandt van Noordt.
From Opera prima Sonata a flauto solo e basso continuo in F Major.
Saskia Coolen, flute.
2. Carolus Hacquart. Trio sonata no 4 in B flat Major from Harmonia Parnassia, opus 2.
La Calendula Amsterdam: Lidewij van der Voort & Judith Steenbrink, violin. Mime Yamahiro, viola da gamba. Marieke Spaans, harpsichord.
Recorded at the Vlaanderen-Brugge Festival 2002.
3. Henrico Albicastro (1661-1730). Concerto no I in F Major & no II in d minor from opus 7.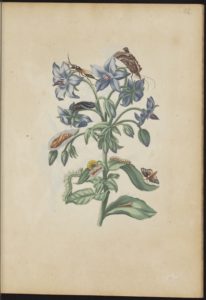 Collegium Marianum/Collegium 1704 conducted by Vaclav Luks (also harpsichord).
4. Trad: Funeral Song for a small child.
Recorded 1966/68 in Christiaankondre and Langamankondre.
5. a. Arcangelo Corelli. Follia ( 1700).
b. Antonio Vivaldi. Sonata La Follia, opus 1 no 12 RV 63 ( 1705).
Hesperion XXI conducted by Jordi Savall.
Recommended literature:
Ella Reitsma: Maria Sybilla Merian & dochters.
Ella Snoep (Reitsma): Vlinders vangen in de tropen, voor kinderen.
Inez van Dullemen: Maria Sybilla, een ongebruikelijke passie.
Produced by: