The Early World
With CDs of the Arnaud van Lancker Quartet (France), Siba (Brazil), Jaune Tourjours (Belgium).
Arnaud van Lancker Quartet.
The accordion of Arnaud Van Lancker connects jazz, gipsy music, klezmer and more. His compositions are refreshing, full with surprises and a lot of rhythmic structures. The first sound is already evidently melodic, with the emphasis on improvisation.
CD: Chez Rosa van het Arnaud van Lancker Quartet. Label: Compagnie du Tire-laine (2013), code: CDTL-0628-z. – www.tire-laine.com
Siba.
This CD is the solo debut of Siba (Sérgio Roberto Veloso de Oliveira). For Avante, Siba was influenced by the rhythms from the north east of Brazil, like the ciranda from "Pernambuco" which he mixed with influences from the "indie rock" and he sometimes uses an original instrument like a tuba which replaces the bass guitar and a vibraphone.
CD: Avante van Siba. Label: Maisum Disco (2013), code: Mais09. www.maisumdiscos.com/ – Distributie Xango.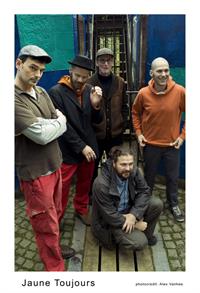 Jaune Toujours.

Just like Brussels is Jaune Toujours an explosive mixture of cultures, languages and music styles: rock, chanson, ska, gipsy music, balkan or brass band sounds, it is all possible. Jaune Toujours plays rough, but the lyrics have depth and convert a big portion of engagement.
CD: Routes van Jaune. Toujours. Label: Choux de Bruxelles (2013), code: cat. nr. chou 1303. http://www.choux.net/NL/
Producer:

Cobie Ivens